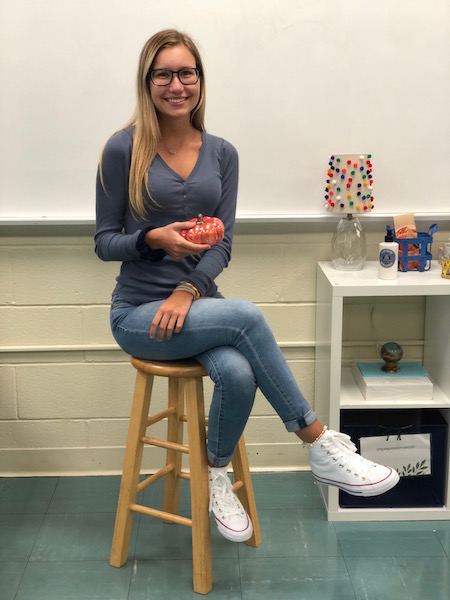 Jenny has returned to the Cat's Eye View staff for her senior year. She is caring and very dedicated to her school work. In her spare time, she enjoys hanging out with friends and binge-watching
shows on Netflix. Currently, her favorite tv show is
Shameless
and her favorite movie is
Good Will Hunting
.
In addition, she enjoys
listening to music while doing her homework
. Her favorite places to eat are Candlewyck Diner and Dunkin' Donuts. Moreover, she loves to travel and wants to visit and explore every state. Her favorite subjects in school are history and English.  In the future, she aspires to major in Political Science and wants to one day go to law school.
Jenny Marcinkowski, Lead Editor: District Initiatives & Community Affairs
Jun 16, 2020

A May Celebration: Catherine Kim is Becton's Student of the Month

(Story)

Jun 16, 2020

Reopening The Country

(Story)

Jun 03, 2020

Becton shows just how Strong it really is.

(Story)

Jun 03, 2020

JulieAnne Fossett has been chosen as April's Student of the Month

(Story)

May 01, 2020

How Covid-19 Has Already Changed Our World

(Story)

Mar 11, 2020

The real problem with the Pink Tax

(Story)

Mar 04, 2020

Equal Play/Equal Pay: Why the USWNT deserves more.

(Story)

Feb 04, 2020

Legendary Basketball player Kobe Bryant is remembered by the Becton Community

(Story)

Jan 22, 2020

Editorial: Exposé on the Exposure of YouTubers

(Story)

Jan 22, 2020

Senior Dylan Valenzuela Reflects on his Time as Team Leader of Robotics

(Story)

Jan 15, 2020

Senior Gianna Penna is chosen as January's Student of the Month

(Story)

Jan 09, 2020

Becton's (Holiday) Spirit Week was Merry & Bright

(Story)

Dec 18, 2019

Salome Siradze Secures December's Student of the Month

(Story)

Nov 26, 2019

The Chick-Fil-A Leadership Academy enters its 3rd year with a "Big Thank You" to Unsung Heroes

(Story)

Nov 14, 2019

Nozka Nabs November Student of the Month

(Story)

Nov 11, 2019

Becton Senior Class Experiences the American Dream on Opening Day

(Story/Media)

Oct 25, 2019

Chinese Delegates Admire Becton Technology

(Story)

Oct 23, 2019

Salutatorian Cecilia Kang has been chosen as the October Student of the Month

(Story)

Oct 01, 2019

Pablo Bravo Honored as September Student of the Month

(Story)

Sep 26, 2019

Becton Dedicates Production Studio to Philanthropic Donor

(Story)

Sep 20, 2019

Becton football: players and fans start the season off right

(Story)

Jun 17, 2019

Athletic Director Mrs. Giancaspro is recognized as 'AD of the Year'

(Story)

Jun 03, 2019

Senior Class President Nuila holds Becton dear to her heart

(Story)

May 12, 2019

Junior Fossett to attend Girls State this June

(Story)

Apr 27, 2019

Boys State delegates prepare for 'citizenship training' this June

(Story/Media)

Apr 04, 2019

Debate team members continue to develop skills at PENNMC

(Story)

Apr 01, 2019

Junior Ochoa & his band take home 1st place at talent show

(Story)

Mar 14, 2019

Varsity basketball athlete Monahan earns 1000th point

(Story)

Feb 24, 2019

Lighting & sound project upgrades JW-PAC to 'professional theater'

(Story/Media)

Jan 20, 2019

BectoBot Valenzuela reflects on their increasing success

(Story)

Dec 03, 2018

PAW Club members visit local animal shelter with numerous donations

(Story)

Dec 02, 2018

Mr. McGuire becomes newest addition to Becton's History Dept.

(Story)

Nov 06, 2018

AP Gov. & Politics students conduct, interpret polls ahead of Election Day

(Story)

Oct 17, 2018

East Rutherford field re-dedicated to Captain Charles H. Riggin

(Story)

Oct 12, 2018

Dr. Sforza appointed as Becton Regional H.S. Acting Supt./Prin.

(Story)

Sep 23, 2018

Safety and disciplinary measures top list of improvements this school year

(Story)

May 31, 2018

Senior Cao's book available for purchase on Amazon

(Story)

May 16, 2018

Journalism & Mass Media students see live taping of Good Morning America

(Story)

May 16, 2018

Spanish Language Instructor Ms. Ruiz organizes Multicultural Exchange Assembly

(Story)

Apr 30, 2018

Criminal Justice class witnesses functions of county court system

(Story)

Apr 16, 2018

Cybersecurity analyst educates Becton females on male-dominated career field

(Story)

Apr 09, 2018

PARCC updates at BRHS & throughout the state of NJ

(Story)

Mar 02, 2018

World Language Dept. attends tech workshop at Pascack Valley

(Story)

Feb 12, 2018

Becton's first Elective Fair debuts courses, introduces new elective ideas

(Story)

Feb 08, 2018

Turnstile check-in tool automatically records student tardies

(Story)

Dec 22, 2017

Seniors place first for Spirit Week, Thomas & Nazco win Mr. and Mrs. Wildcat

(Story)

Nov 15, 2017

AP Statistics class sits in on college-level presentations at WPU

(Story)

Oct 15, 2017

Political Science Club offered at Becton

(Story)

Sep 20, 2017

Becton welcomes Special Education Teacher Mrs. Termanini

(Story)