Becton's first Elective Fair debuts courses, introduces new elective ideas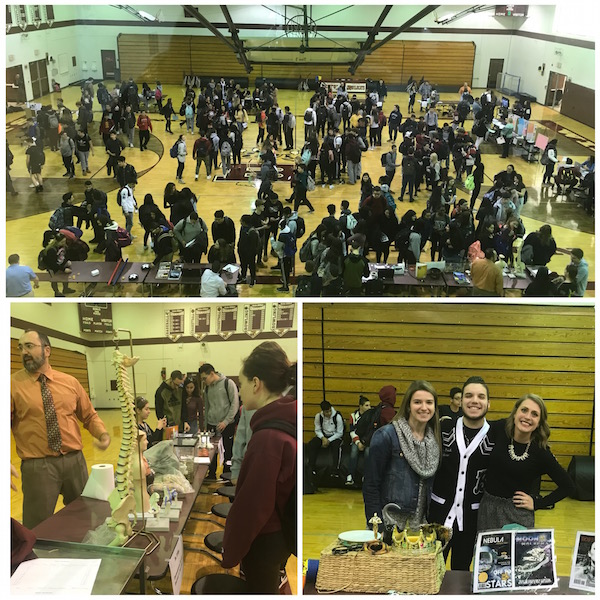 Students at Becton Regional High School were recently given the opportunity to further explore elective classes offered at the high school. An Elective Fair, which was coordinated by Supervisor of Guidance Mr. Caprio as well as the Guidance Department, allowed students to learn more about the vast amount of course opportunities. Mr. Caprio was given the inspiration for the school-wide event from a friend who works at Northern Highlands Regional High School in Allendale.
Prior to the fair, participants gathered in the James Williams Performing Arts Center (JWPAC), where the Supervisor of Guidance relayed information on what was to be expected at the event. Mr. Caprio made it a point to inform students that classes for the following year will be offered based on how many students are interested in the course content.
Shortly after, the gymnasium was filled with students visiting different tables while familiarizing themselves with the electives presented at each. Teachers spoke about course offerings while several staff members were accompanied by students who are currently enrolled in their course(s) and could offer their perspective on it.
Moreover, numerous new elective ideas for the 2018-2019 school year were presented. Added to the list of math courses is College Finite Math, which will be taught by Mathematics Instructor Mrs. Ferris. The newest literature-based elective is The Holocaust in Literature and Film and will be taught by English Teacher Mrs. Gatto. Moving on, new to the World Language Department is Spanish 4, Spanish Honors and Italian 4 Honors.
In the Career Education field, Computer Science Discoveries was introduced by Mr. Siracusa. A course based on television and broadcasting may also be a possibility.
Furthermore, introduced in the Visual and Performing Arts category are the options of taking Digital Art and Cultural Art, and in addition to Band, Show Choir, and Chorus, Rock Band may now be available to all those interested.
"I think the Elective Fair was a great way to introduce students to the new electives," said Sophomore Ah Lim Byun. "Before the fair, I was unsure about my elective choices; it helped me narrow down my options," she added.
Junior Jaylen Nuila stated, "I felt like it really gave me a clear idea about what I want to do, and it really helped me decide. I got information on classes I never thought I'd be interested in."
Since Becton's incoming freshmen did not yet get the opportunity to see the electives offered, Becton's annual freshman barbecue will be moved from August to May. The Class of 2022 will then get the chance to learn more about the electives, as well as the other classes offered at Becton, on the day of the event.