Athletic Director Mrs. Giancaspro is recognized as 'AD of the Year'
Athletic Director Mrs. Giancaspro has been awarded the title of North Jersey Interscholastic Conference 2019 Athletic Director of the Year for the Meadowlands Division. This award was presented to her at the Annual Sportsmanship Luncheon, which was held at the Chart House on May 29. 
"I think I am the first female to receive this award in my division, which is an honor," said the athletic director. This accolade comes as a pleasant surprise to Mrs. Giancaspro because she has only been an athletic director for four years; most recipients are in this position for much longer before receiving such recognition.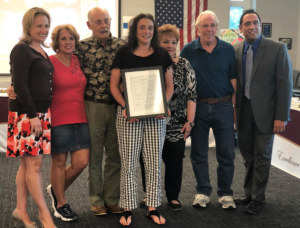 During Mrs. Giancaspro's first year as an athletic director, Becton Regional High School won three league titles, which have been added to the banners displayed throughout the high school's gymnasium.
"This makes me feel both honored and respected by my peers who know the intensity of the job as well as all the attention to detail that is required on a daily basis to make the athletic program a success," she said.
Moreover, she adds that her favorite part of being an athletic director is being able to provide the best for all of Becton's athletes in terms of sports, whether it be in the form of uniforms, coaching and support staff, or facilities. In addition, she loves having the opportunity to witness the growth among the student-athletes over the years as they mature into young adults.
"
Receiving this award…will be a memory that will last forever."
— Mrs. Giancaspro
Mrs. Giancaspro was chosen for this award out of a group of nine other contenders. The other schools in the Meadowlands Division are Hasbrouck Heights, Wallington, North Arlington, Immaculate Conception, Paterson Charter, Wood-Ridge, Weehawken, St. Mary's, and Saddle Brook.
One of her favorite memories in this leadership position so far is attending the all-county dinners and lunches with Becton's student-athletes. There, the athletes are acknowledged for their leadership, sportsmanship, dedication, and talent.
"Receiving this award will, of course, also be a memory that will last forever," she stated.
Not only has Mrs. Giancaspro been a part of the Becton staff for years, but she was also once a Becton athlete herself. "I must say that I was a very competitive athlete who always strived to do my best. I was recognized as an all-state and all-county athlete. I took great pride in performing my best in volleyball, basketball, and softball." Her favorite memory as a Becton athlete was when she scored her 1000th point in basketball and when she broke the school record for the highest number of stolen bases in softball.
About the Contributors
Jenny Marcinkowski, Lead Editor: District Initiatives & Community Affairs
Jenny has returned to the Cat's Eye View staff for her senior year. She is caring and very dedicated to her school work. In her spare time, she enjoys...