Varsity basketball athlete Monahan earns 1000th point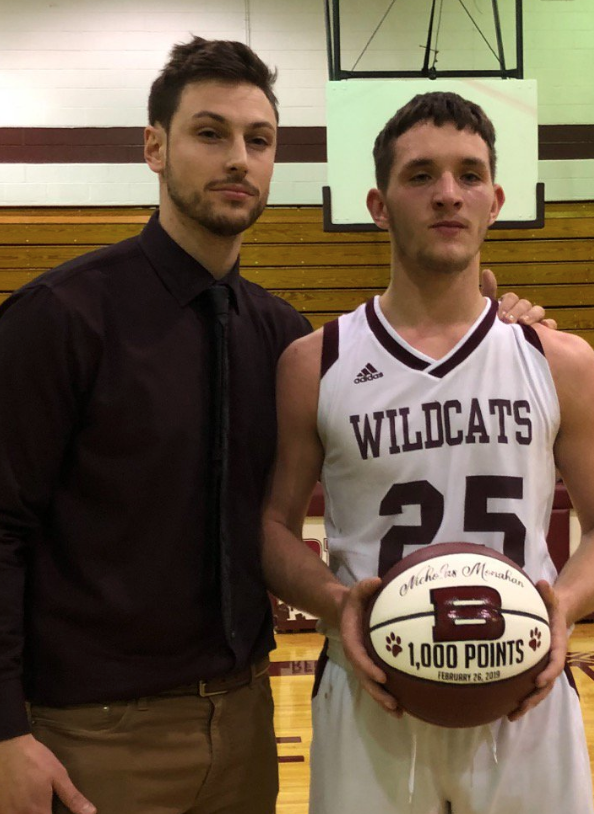 Senior Nicholas Monahan celebrated his 1,000th point in his high school basketball career during the NJSIAA Section 2, Group 1 Tournament on Feb. 26.
In addition to achieving his 1,000th point, Nick helped his team achieve a victory against Newark's Arts High School, 68-56. The Becton senior accomplished his goal in the third quarter of the game and is the first male athlete to earn 1,000 points since Robert Zimmermann in 2012.
"It has definitely been a great career. I enjoyed playing this game more than pretty much anything," said the Nick. "I had a lot of fun," he added.
Moreover, the athlete mentioned that it was a very interesting experience transitioning as a student from Hasbrouck Heights High School to Becton High School, especially after challenging them in the playoffs the year prior. "I was inspired by a former Hasbrouck Heights 1,000th point scorer who motivated me to do it myself," he said.
"
It has definitely been a great career."
— Nick Monahan
Furthermore, the athlete noted that his most memorable game was one where he challenged his former high school. According to him, any time he played against them it was a weird, yet cool experience.
"Having people from Heights still cheer for me even after the transition to Becton is surreal," he stated.
Nick thanks his parents for their constant support and praises his father for being a big critic at his games because this has helped him to improve and get better at the sport.
In addition to his father, he also thanks his mother for always supporting him stating, "When she comes to my games, there's not a time where she's not screaming."
During his 1,000th point game, the varsity athlete said that he was more focused on the game and giving the team a larger lead rather than the actual achievement. The senior said that the achievement was something he was looking forward to and one of his goals ever since he held a basketball.
About the Contributor
Jenny Marcinkowski, Lead Editor: District Initiatives & Community Affairs
Jenny has returned to the Cat's Eye View staff for her senior year. She is caring and very dedicated to her school work. In her spare time, she enjoys...