Senior Class President Nuila holds Becton dear to her heart
Senior Class President Jaylen Nuila is beginning to reflect on her time spent at Becton Regional High School as she prepares to give her commencement ceremony speech on June 20.
"Everyone here has something to be proud of, and never give up on your dreams or lose sight of the goals you have set" is some of the advice that the student leader has for her peers.
"Also, don't procrastinate on your college applications, and listen to Mrs. Ferris because she's a lifesaver," added the senior class president.
One of Jaylen's goals in September was to make this year memorable for all of the members of the graduating class, and she feels like she has accomplished that task. The senior said that the hardest thing for her as senior class president was to make sure everyone's voice was heard and for everyone to be in agreement on an idea.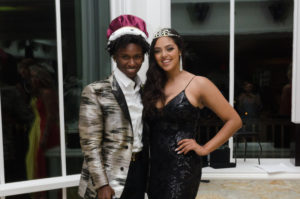 The Class of 2019 graduate wants anyone who is planning to run for office to understand how important it is to listen to his or her peers' wants and needs. Moreover, she adds that any person who is running needs to make sure that he or she has ideas to improve the school and that being kind to others goes a long way. "Don't be ashamed to have school spirit. The more you immerse yourself, the better your year will be," she stressed.
Throughout her graduation speech, Jaylen plans to leave a positive message to the Class of 2019 while reminding them to remember where they came from. "They also need to be able to embrace what the future has in store," she added. On graduation night, Jaylen will also discuss the importance of living in the moment and reminisce on the fun times they had at Becton.
The senior class president's favorite classes while in high school were journalism, Italian, and Calculus Honors. She said that the teachers, as well as the students in those courses, made them very fun and enjoyable.
A personal goal for Jaylen during her senior year was to get into the college of her choice, and she made that happen. This upcoming fall, she will attend Colorado State University in Fort Collins. She plans on majoring in business entrepreneurship and minoring in advertising.
Her favorite memories at Becton include hanging out with friends before football games and decorating the hallways after school during the holiday season.
"No matter what happens in life, Becton will always have a place in my heart," she said.
About the Contributor
Jenny Marcinkowski, Lead Editor: District Initiatives & Community Affairs
Jenny has returned to the Cat's Eye View staff for her senior year. She is caring and very dedicated to her school work. In her spare time, she enjoys...