BectoBot Valenzuela reflects on their increasing success
Becton Regional High School's Robotics Team is gaining significant momentum since its inception five years ago. Awards include earning the title of 'Most Creatively Designed Robot' at the group's first competition this school year and placing in the top four out of 30 schools at the Robo-Wrangle Meet held in Emerson this past month. 
"We have not only grown in numbers but have improved in capability and talent," said the team's president and team captain, Junior Dylan Valenzuela.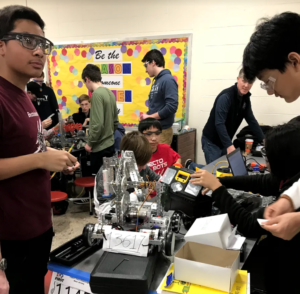 According to its advisor, Mrs. Mackanin, the BectoBots is now a nationally recognized team.  "We were a club for the first three years but have now joined a world wide recognized organization, First Robotics.  We compete regionally, and if we can, we would move to regionals and then nationals."
During the 2017-2018 season, the group consisted of 12 members, but since then, students from the incoming freshman and sophomore classes gained interest in the STEM team, so now it has a total of 22 members: six seniors, two juniors, nine sophomores, and five freshmen.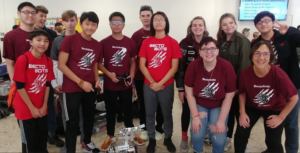 According to Dylan, a typical robotics tournament consists of competing with other high schools by earning points and climbing up on the leaderboard to secure a spot in the semi-finals and finals. "The tournament is made up of about 30 rounds, two teams consisting of two different schools each in a two versus two layout. We use our robot to compete in two phases of each round," he continued to explain. 
When preparing for a typical tournament, individuals discuss the appearance of the robot, as well as the function and performance during each particular period of the match. A regular meeting can last upwards of two hours, but if it is close to a tournament, it can last up to four hours.
The design of Becton's STEM team consists of members focusing on several different positions. For instance, the group has three separate branches that include mechanics/engineering, coding/programming, and fundraising. Dylan is captain of the mechanics/engineering division and Senior Gene Lee is head of the coding/programming division. There are six engineers and seven coders/programmers. Seniors Hailey D'Errico, Nikola Gielarowiec, and Jacklyn Sewastianowicz are in charge of the fundraising department, and there are nine students whose job is to fundraise. Mrs. Mackanin focuses on the fundraising division and calculates the cost of parts needed and how to allocate the money.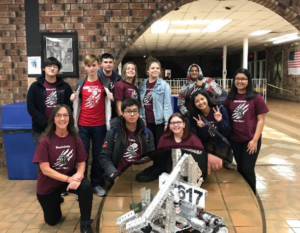 What Dylan admires most is the ability for the members to come together as one and use their ideas and knowledge to create a robot that they are able to showcase and compete with at the tournaments. "I like our dedication and determination to always improve and to regroup and talk after every problem we encounter. I also like the teamwork, bonds, and friendship we develop with each other throughout the year," he said.
The next robotics tournament, the Northern Blast Saturday Qualifier, will take place at Englewood High School and will host 30 teams. The date is to be announced since it was canceled on January 19 due to inclement weather, and the NorthEast NJ League Tournament will take place on Feb 24 at Glen Rock High School. These tournaments are hosted by First Tech Challenge NJ, a volunteer-based program that focuses on STEM, teamwork, and innovation throughout high schools in the state.
"It is nice to see that the group keeps growing every year and we are able to compete with other schools and make some friends along the way. I can't wait to see what we have in store for next year and what amazing things we can do in the 2019-2020 season," said Dylan.
About the Contributor
Jenny Marcinkowski, Lead Editor: District Initiatives & Community Affairs
Jenny has returned to the Cat's Eye View staff for her senior year. She is caring and very dedicated to her school work. In her spare time, she enjoys...