Safety and disciplinary measures top list of improvements this school year
Although Becton Principal Dr. Sforza feels that the Carlstadt-East Rutherford School District has always been "proactive and ahead of the curve" with regard to safety and discipline, new precautions have been taken this school year.
First and foremost, this past summer, Becton's principal has been appointed as a School Safety Specialist, a position that was designed by the New Jersey Department of Education. Dr. Sforza completed a multiple-day training session this past summer that prepared him for his new role, and during this time, he met with several agencies to discuss distinct topics in relation to security and safety. Several responsibilities of the School Safety Specialist include supervising the school's safety and security personnel, making sure the school's safety policies are updated according to state law and providing necessary safety and security training to the building's staff.
To begin with, an important improvement that has been made to school grounds and primarily affects those who visit Becton Regional High School is a management system that uses the latest technology to scan a visitor's state identification.
In addition to the stringent new visitor policy, the Becton administration is working closely with law enforcement on ensuring that an armed police officer is present at the high school for a majority of the time.
The East Rutherford high school also had twenty additional security cameras installed throughout the facility in addition to the seventy five that have already been up and running. Roughly $15,000 to $20,000 was taken from a state-approved long-range facility plan to pay for the cameras. The cameras were installed in various locations inside and outside the school with added monitoring in areas such as the media center, cafeterias and gymnasium. A future goal for the Becton administration is to implement cameras on the school buses, and they are currently researching several companies to help with this security measure.
Likewise, the cafeteria doors have also been replaced with heavy security- enforced doors and every lock throughout the school has been replaced. The school will also update its public announcement system, so it is clear and loud in all sections of the building.
The administration has also installed a new way of communicating with parents and students instantly using a new notification system provider, School Messenger. "Communication is important for keeping students, staff and parents informed," Dr. Sforza stated. School Messenger will primarily be used for school-related events and emergencies.
"
The new security fence added to the beautification of Becton."
— Dr. Sforza
In addition to the security precautions, a new fence around the building has also been installed over the summer. "The new security fence added to the beautification of Becton," said Dr. Sforza. The old fence, which was rusted, outdated and had barbed wire in some sections, had not been updated since the establishment of Becton. The cost totaled approximately $200,000, and the money was taken from the Maintenance Reserve Account, which has been saved up for numerous years by the school's business administrator, Mr. Annitti. The funds for the various projects came from smart budgeting and did not require a referendum or additional tax dollars.
The district also continues to keep students, faculty and staff informed by having representatives from the Bergen County Prosecutor's Office, the NJ Department of Education Office of School Preparedness and Emergency Planning and local law enforcement present to staff. The principal mentioned that these individuals have been here before and have always been impressed by the tight security of the building. He also wants to acknowledge the benefits of having first responders on the school's board of education who are highly experienced in the areas of emergency planning and response and believes it is a very valuable benefit to the stakeholders of the Carlstadt-East Rutherford school community.
Last but not least, the school has added an extra speed bump to the parking lot. Dr. Sforza felt that it was necessary to add another one because students, parents and visitors sometimes drive too quickly. He wants everyone to slow down while driving and understand that Becton has zero tolerance for speeding in its parking lot.
---
Moving on, the 2018-2019 school year came hand-in-hand with several needed disciplinary modifications.
For instance, because of the new 7:55 a.m. start time implemented this year, the teachers and administration have worked together to try to figure out how to help students get to school on time and in turn, deter them from being late. With this in mind, a new late policy has been created. If a student is late for the first period class of the day, he or she will receive a 30-minute central detention ending at 3:15 p.m. Along with daily central detentions, an extended central detention will be held until 4:15 p.m on Thursdays. Extended central detention is taking place of the previous Saturday detentions and will only be given out for serious infractions, code of conduct violations or missed central detentions. 
Furthermore, since the new Becton Infinity Schedule also allows for more teacher flexibility during the day, an in-school suspension duty (ISS) has been reinstated. Although ISS may not frequently be used, administrators feel like it is an appropriate place for educators to send students who are habitually disturbing learning time and in turn, may need to decompress out of the classroom.
Among other things, updates to the infraction chart have also been altered to specifically target some recent Vaping trends. In previous years, tobacco products were banned on school grounds; however, now rules have been expanded to include Juuls and other e-cigarettes. With new district-wide policies, the Becton administration aligns the infraction chart and policies with the needs of the school.
In order to further promote the new attendance and disciplinary campaigns, the school has been looking for more innovative ways to involve students and parents. One idea that Dr. Sforza is particularly excited about is the instant SMS updates that will be sent out to parents immediately providing them information about their child's attendance and disciplinary behavior. Moreover, with instant text messages in the near future, parents will be able to receive real-time news and be more involved in the school community.
The principal commented, "We are having intervention meetings with students that may be violating the attendance or late policy and are also involving parents and counselors more along with any other needed resources to help them get to school on time every day. We feel that one of the most important parts of child education is being present."
For students who have the privilege of leaving for lunch, Dr. Sforza would like to remind them that being on time is crucial. "Students need to be responsible when coming back and make sure they do not ruin the privilege for themselves or other students. Now moving forward, if a student is late for lunch, he or she will receive a warning and then see a progressive increase for subsequent offenses including the possibility of having the privilege revoked."
Overall, a final message from the principal for all students is to keep being wonderful and having mutual respect for the teachers and each other in order to continue to build strong relationships and have a safe and productive school environment.
About the Contributors
Jenny Marcinkowski, Lead Editor: District Initiatives & Community Affairs
Jenny has returned to the Cat's Eye View staff for her senior year. She is caring and very dedicated to her school work. In her spare time, she enjoys...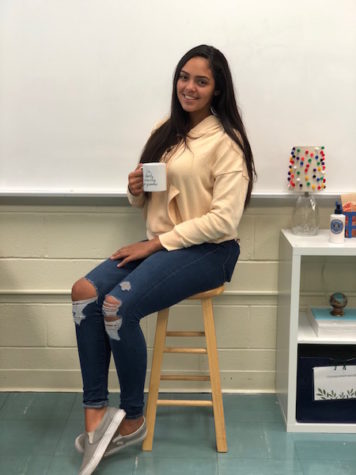 Jaylen Nuila, Staff Writer
Jaylen Nuila is a senior and will begin her second year as a staff writer for the school paper. At Becton, Jaylen is very involved and plays on the varsity...