Senior Cao's book available for purchase on Amazon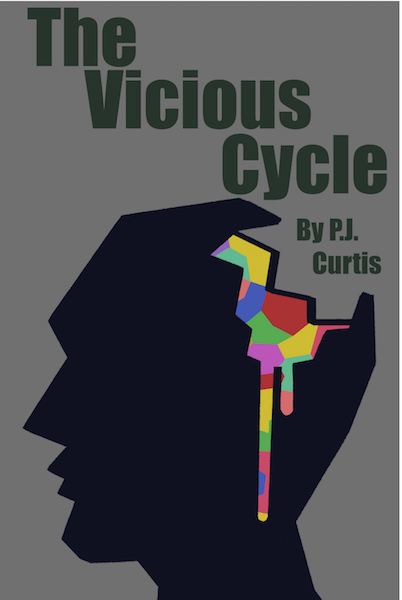 Senior Patrick Cao's first book, A Vicious Cycle, is currently available for digital purchase and download on Amazon.
According to Patrick, the message of A Vicious Cycle is that despite what others think, an individual should still continue with his or her goals no matter the struggles that he or she may encounter.
The young author relates his collection of poems to his childhood and the difficulties he faced as a student. "Since I had advisors in the past saying that I wouldn't amount to much because of my I.E.P. and that my best shot at a career would be in landscaping if I was lucky, I wanted to prove those people wrong by showing that I am more than capable to produce something of higher quality with a sense of passion," he said.
Patrick wrote the book under the pen name P.J. Curtis. The acronym is derived from his first and middle initial. The name 'Curtis' comes from the last name of one of his favorite characters, Ponyboy Curtis, from The Outsiders. The coming-of-age novel made him realize how literature is more than just an assignment, but rather a high art.
"The meaning behind The Vicious Cycle is that I believe a lot of people are left miserable because of the obligations they have forced upon them from society. In the end, I think humans get caught up in this 'vicious cycle' of mediocrity that leaves them in a state of existence rather than one of living, " he said. He added that he believes that there is more to life than what society expects of people and that money is not everything. He drew the theme of his novel from works such as The Metamorphosis by Franz Kafka and Invisible Man by Ralph Ellison. 
"
I think humans get caught up in this 'vicious cycle' of mediocrity…"
— Patrick Cao
The Becton senior derives most of his inspiration from musical artists such as Pink Floyd's albums The Wall, Dark Side of the Moon and Meddle. In addition, he is inspired by artists such as The Beatles, Jimi Hendrix and The Doors through messages that they communicate in their lyrics.
When asked about the process of writing a novel, he explained that there was no real process. The senior writer started his novel during spring break and completed twenty poems in three weeks. The remaining poems were finished in one night, and he called the writing process "spontaneous."
"Though I did not receive any direct help when writing the book, I certainly have gained a ridiculous amount of experience from my teachers such as Mrs. Lonergan, Mrs. De Santis, Mrs. Scalera and Mr. Carr for learning how to write in structure, but Mrs. Gatto was truly the one who taught me how to write in style," he said.
Patrick stated that he definitely wants to write more pieces of literature in the future. He currently does not have any books in progress but is rather brainstorming ideas for additional works. He hopes to have his upcoming novels carry the theme of existentialism or philosophy in coming-of-age narratives.
A Vicious Cycle is self-published through Amazon. Patrick explained that Amazon has a direct publishing program, which allows users to submit their own books and price them. The cost of the work is $5.00, and it is currently only available digitally and on all Amazon tablets. In addition, the cover was designed by Senior Konrad Messyasz. The Becton author is still working out the details to publish his work in paperback.
Patrick plans to continue writing in the future when he attends Bergen Community College and then when he plans on transferring to Montclair State University. He aspires to become an English teacher and a writer and possibly also earn a Master's Degree in English.
About the Writers
Jenny Marcinkowski, Lead Editor: District Initiatives & Community Affairs
Jenny has returned to the Cat's Eye View staff for her senior year. She is caring and very dedicated to her school work. In her spare time, she enjoys...
Alexis Howard, Staff Writer
Alexis Howard has a passion for traveling. She wants to visit most of the seven continents before age thirty. On her free time she binge watches all her...