A May Celebration: Catherine Kim is Becton's Student of the Month
Catherine Kim has been chosen as May's Student of the Month.
The senior and Student Council secretary said of the accomplishment, "I feel very honored and when I first found out, I was beyond elated."
The senior has partaken in a wide range of clubs and academic activities offered at Becton including the Student Council, National Honors Society, and the internship program. Kim shared that she found great enjoyment in her internship and named 2019-2020 Teacher of the Year, Mrs. Colangelo, her art teacher, as her favorite teacher while at Becton.
The May student of the month finds her biggest challenge to be the struggles she has faced, but she has not let them stand in her way, explaining, "…all of these times have made me grow as an individual, so I would never have it any other way". In addition, when asked her favorite memory from high school, Kim had difficulty choosing, and shared that she "cherished every moment" she was able to spend at Becton throughout the years.
Catherine Kim says her passion and drive to attain the future she wants for herself is what pushes her to work harder. Although she does not have a specific role model, she tries to be the best version of herself that she can be and hopes to become her own role model.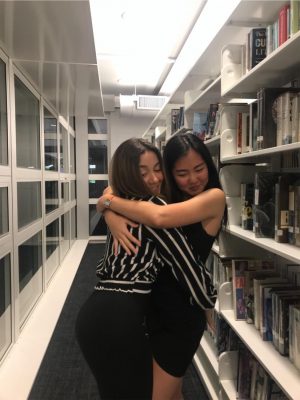 Some of her interests include business, fashion, and photoshop. In her free time, she likes to build bonds with family and friends and listen to music. This fall, she will be majoring in Business Leadership and Business Management in the hopes of working in Business Development.
When asked what advice she would give to rising seniors, Kim said, "You have absolute control and responsibility over your own outcomes and future. Everyone and everything else is just a passing factor. Your responses are what make your reality. Take control, genuinely listen, and don't be ignorant…believe in yourself to guide you to where you want to be." The accomplished Catherine Kim has certainly taken her own advice.