Celebrating the 2019-2020 Teacher of the Year
Hang on for a minute...we're trying to find some more stories you might like.
Art and Broadcasting teacher Mrs. Amanda Colangelo has won the 2019-2020 Governor's Educator of the Year award for Henry P. Becton Regional High School. Because of her leadership skills and collaborative ways of teaching, her fellow teachers nominated her for the honor. According to the state of New Jersey, one of the criteria for the award is that the teacher "actively collaborates with colleagues, students, and families to create a strong culture of respect and success". Mrs. Colangelo always maintains a positive attitude toward her students and colleagues, emphasizing family and community outreach through her use of social media, as well as more traditional means of communication. She views art and media as a "universal language" and explains how "education is a collaboration of not just teacher and student, but the entire community… working together toward a common goal of helping each individual child reach their fullest potential."
Another criteria of the award is that the teacher "inspires students of all backgrounds and abilities." Mrs. Colangelo outweighs the competition with her amazing ability to provide creative opportunities to students of all cultures. Mrs. Colangelo explains that "being a teacher allows you to see students with different and individual needs, and [teachers] need to be flexible and able to listen and have love and passion for children with all learning abilities." Teachers need a passion for teaching and understanding so that their students could match that passion when it comes to school and learning. Current digital photography student Jenny Marcinkowski believes, "Mrs. Colangelo shows a strong admiration for all the electives she teaches. She really pushes students to go beyond the classroom to enhance their work".
The final criteria is to "demonstrate leadership" within the work area. Mrs. Colangelo helped to launch the broadcasting studio and explains how she is always "finding ways that [she] can be useful to others and mak[e] everybody's day a little easier". Mr. Bonono expresses that "Mrs. Colangelo's fingerprints are all over the school, [she] happily involves herself in every program we run and benefits the community." This award shows how Mrs. Colangelo goes out of her way to reach her students and will continue "sharing new and creative ideas" with the Becton family. 
About the Contributors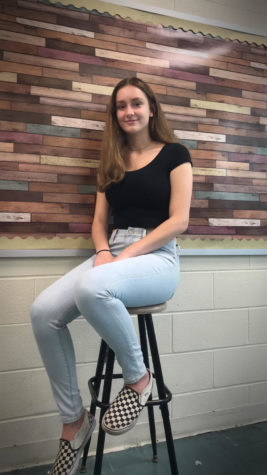 Jessica Szewczyk, Staff Writer
Jessica is a sophomore and this is her first year on the Cat's Eye View staff. Her favorite subject in school is mathematics. During her free time she...