Salome Siradze Secures December's Student of the Month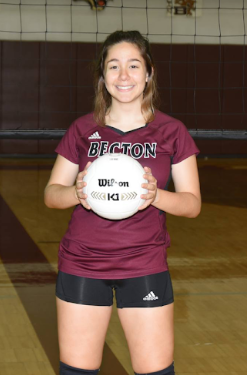 Jenny Marcinkowski, Lead Editor: District Initiatives & Community Affairs
December 18, 2019
Salome Siradze has been selected as December's Student of the Month. "When I stop to think about all of the voices that contributed to making this decision, I can't help but feel grateful. It fills me with a lot of pride to be recognized for all the work I've done," said the Senior.
Salome finds that the hardest part of high school was keeping a positive attitude. She said, "It's very easy to let things get to you and get overwhelmed by schoolwork. However, if you develop the mindset to smile and laugh through things as they come, life becomes a lot more simple"
Some of Salome's favorite classes at Becton are English 10 Honors and AP English 12. She admired Mrs. Scalera's "raw passion" for literature and her ability to reflect those same feelings onto her students. Moreover, the student of the month's favorite hobbies include reading manga, listening to music, and playing volleyball.
Furthermore, Salome has been on Becton's volleyball team since her Freshman year. There she became a Varsity starter her first year and Varsity Captain her Junior and Senior year. In her Sophomore year, she was First-team All-League and her Junior and Senior year, she was Second-team All-League. Additionally, Salome participated in Track and Field in her Sophomore year.
In terms of clubs, Salome is a member of PAW Club, Girls Helping Girls, Video Game Club, Images Club, Math League, and is the Secretary of the Senior Class. She has been in National Honor Society since her Junior year and currently holds the title of Treasurer/Reporter within the society.
During her Junior year, she was a part of Carlstadt's Volunteer Ambulance Corps. As a volunteer, she became CPR-certified, transported patients, aided in cleaning minor wounds, assisted in filing patient's reports, and also carried the jump-bag. She previously volunteered at the Carlstadt Public Library. Currently, Salome has an afternoon internship with Elite CAD Design in Lyndhurst, NJ. There she created a new website for them, as well as, recreated their business brochures.
Furthermore, Salome accredits her Volleyball coach and Gym teacher, Ms. O'Driscoll, as one of her role models. "Coach O' has taught me the power of patience, dedication, and drive. One of the most important lessons she showed me is that spots are not permanent and that only people who work hard can stand at the top," said the Senior.
Although Ms. O'Driscoll is Salome's role model, she feels her parents push her to work harder. "Whenever I think about giving up, I think about how many hardships my parents must have faced just to give me everything I have today," said Salome. She feels as a first-generation student, she wants to make her parents proud and be able to support them in the same way they supported her".
Moreover, the student of the month has applied to seven schools including, Rutgers University, Boston University, University of Pennsylvania, and New York University. Her top choice, however, is Northeastern University.
Wherever Salome decides to further her education, she hopes to major in Business which a concentration in Marketing, but also has an interest in Graphic Design. She feels that no matter the degree she earns, she hopes for a future where she will be happy.