East Rutherford field re-dedicated to Captain Charles H. Riggin
A re-dedication ceremony in honor of Captain Charles H. Riggin took place at East Rutherford's Riggin Field this past Sunday, October 14. Riggin was an Army Captain during WWI when he was killed during the Meuse-Argonne Offensive in France on October 14, 1918. At the time, he was only 28 years old.
Captain Riggin was born in Maryland on September 1, 1890 and attended St. John's College. While attending St. John's, he was introduced to their cadet companies where he received his first military training.
After graduating in 1912, he left to attend Charlotte Hall Academy where he took a position as a commandant instructor. In 1913, Captain Riggin became a teacher at East Rutherford High School and later went on to become a principal. He kept that leadership position until he returned to the Army in August 1917 where he was commissioned Second Lieutenant.
Prior to entering service, Captain Riggin was a member of Engine Company One, as well as the Freemasons from Boiling Springs Lodge No. 152 in Rutherford. In August 1917, he also married Lillian Bigelow, a teacher at Lincoln School in East Rutherford. Captain Riggin was sent to Camp Merritt, which sits on the border of Cresskill and Dumont. There, he was commissioned First Lieutenant. 
"
What a life he lived."
— Reverend Donald Pitches
An influenza outbreak that killed 578 people in that camp happened one hundred years ago. That influenza killed soldiers as well as people working at the site. Captain Riggin was lucky to have left the camp six months before the outbreak. When it was their time to leave the camp to get sent to Europe, the troops would march from Camp Merritt to Hoboken, and at the port in Hoboken, they would get deployed to several different battlefields in Europe.
Captain Riggin was then deployed with many others to Europe to battle in World War I. "With less than a month to go to the end of the war, Riggin made the ultimate sacrifice, losing his life during the second Battle of Muras and Belleau Woods. That was in France on October 14, 1918," said Mr. Jeffrey Lahullier, a councilman from East Rutherford and president of the East Rutherford Historical Society. Captain Riggin was among the 26,000 American men that died during that battle.Furthermore, the Battle of Muras and Belleau Woods was significant because it concluded World War I.
Mr. Lahullier stated, "One of Riggin's men was quoted as saying 'He was of a sunny, cheery disposition. He was liked by everyone he came in contact with.'" Mr. Lahullier added that it took almost a year to transport his body from France to Arlington National Cemetery.
Reverend Pitches of the Carlstadt First Presbyterian Church helped coordinate the event and spoke about how he first became interested in the life of Captain Charles H. Riggin when he had a conversation with Councilman Lahullier a few years back.
"It was interesting to find out that neither he or his wife grew up here in the town, but when they came to this area, they invented themselves, became part of the community, education, life, safety, fire department, the Masonic organization, and other organizations. What a life he lived," stated Reverend Pitches.
At the conclusion of the ceremony, a bell was rung five times by Reverend Pitches for each Carlstadt or East Rutherford resident that served in WWI. In addition, a tree was planted and a memorial stone and plaque were placed in remembrance of Captain Riggin.
Becton's marching band, under the instruction of Mr. Corey Moore, played several songs at the event, two of them being "Fanfare for the Common Man" by Copland and "Over There" by Cohan.
The original Riggin Field dedication occurred in 1927.
About the Contributors
Jenny Marcinkowski, Lead Editor: District Initiatives & Community Affairs
Jenny has returned to the Cat's Eye View staff for her senior year. She is caring and very dedicated to her school work. In her spare time, she enjoys...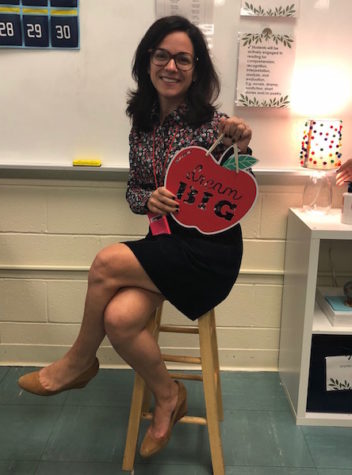 Mrs. V De Santis, Adviser
Mrs. De Santis has been the school newspaper adviser for fourteen of the seventeen years at Becton. She is an English teacher who is currently teaching...