JulieAnne Fossett has been chosen as April's Student of the Month
JulieAnne Fossett has been picked as Becton's April Student of the Month. "I feel honored, excited, and also surprised because I wasn't expecting to be chosen but I feel proud that I did," said the student of the month. Fossett was honored with a video at the district board meeting as well as a visit by her administrators during the Covid-19 school closure.
The senior felt that the most challenging part of high school was getting all her work finished without procrastinating. JulieAnne was lucky enough to score an art internship her senior year and competed on the track team. "I did sports, volunteering, and not much else because my original internship didn't allow me to participate in most clubs," said Fossett.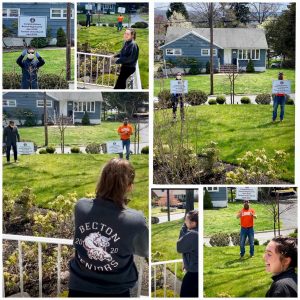 Fossett's favorite class was English with Mrs. Scalera, but she also enjoyed her internship with Mrs. Colangelo. In her spare time, she loves to draw, read, write, and play sports. "My favorite memories from high school are all during track season last year and going to the meets and practices with all of my friends," said the senior, who describes her teammates as her "second family".
Moreover, the senior feels that her teachers push her to work harder and apply herself as much as she can. In the fall, she plans to attend Rutgers University in New Brunswick and will be majoring in nursing; she hopes to one day be a pediatric nurse. "I want to major in nursing because I always wanted to be able to help people and the idea of nursing always felt rewarding and something that I think I would be good at," said the student of the month. Fossett chose Rutgers because of their nursing program, as well as, its location as she wants to dorm, yet still, be able to come home on the weekends.
When asked what advice she would give to rising seniors, she said, "Be as involved in the school as you can; do any sports that you're interested in, join as many clubs as you want, participate in fun events, pep rallies, everything because those are the moments you're going to remember."