Junior Ochoa & his band take home 1st place at talent show
Sophomore D'Amato & Senior Jaime place 2nd & 3rd
Junior Christian Ochoa's band S.O.A.P took home the first place trophy at this year's Becton Talent Show hosted by Ms. O'Driscoll and the junior class. Second place was awarded to Sophomore Gianna D'Amato for her vocals and instrumental of Paramore's "Decode," and third place went to Senior Chloe Jaime's dance routine to "I Want to Dance with Somebody."

S.O.A.P, which is short for "Stars Over A Planet," is made up of Christian, Matthew Valentin, Nelson Espaillat, and Chris Caruso. During their performance, the band sang several Bink 182 cover songs because they said that particular band is who brought them together as a group.

"We chose to play two songs because we had just gotten this band together, and it was a great opportunity for us to practice playing on stage. It was a great first gig," said Christian, who plays the drums. They practiced for the talent show for roughly two weeks prior.

The member of the Becton band stated that in the future he wants to play venues and provide entertainment "by the people, for the people." The drummer said that when the band was announced to take the stage, they were excited to have the opportunity to perform.

Furthermore, he mentioned that they themselves are their biggest fans and highlighted that their musical group really focuses on the importance of self-love.

The Becton junior's first time playing the drums was at the age of six, and it was to The Beatles song "Yellow Submarine."

Next, Sophomore Gianna D'Amato won second place with her rendition of Paramore's "Decode" on the piano. She changed the melody of the song to fit a more acoustic version so she could play the piano and sing. Once she heard about the talent show, she said that she practiced daily, and although part of a band, she ended up singing on stage on her own because her band is currently traveling.

Video courtesy of Mrs. De Santis

Gianna's dream is to be in a touring band, and she plans on pursuing a career in the creative field. "I was very surprised that I won second place. I was not expecting it," said the sophomore. She was very appreciative of her friends who came out to support her.

Last but certainly not least, Senior Chloe Jaime placed third with her dance routine to Whitney Houston's 1987 song.

In less than a week, the senior put together an energetic jazz routine to capture the hearts of the audience. "I'm so proud and happy to have placed, especially because there was some really tough competition," she said.

Her mother, who Chloe named her biggest fan, encouraged the senior to perform. "When she received the award, it was a confirmation of her perseverance. I really hope she continues this further because it's a part of her, and it is so beautiful to watch," said her mother.

Video Courtesy of Mrs. De Santis

Her mom also said that it's "inspiring" to watch her daughter express herself on stage through her dance moves.

Chloe began dancing at the age of three and has continued for 16 years. Along with playing sports and working on the weekends, she takes jazz, ballet, lyrical, tap, acro and flamenco classes at the Allegro Arts Academy in Carlstadt.

Her dance teacher, Mr. Omar, has been her most influential instructor. Chloe fondly recalled that her teacher has always encouraged her to have confidence on stage and in life.

For anyone thinking about joining the talent show, the Becton senior encourages them to try out and have fun. "It's a really fun experience, and you get to meet people you never would've known otherwise." She also recommends dancing because it gives you the tools to express yourself and become confident in everything you do.

In the future, Chloe hopes to continue taking dance classes in order to stay active.

Other performances at the 2019 Becton Talent Show included Sophomore Tracy Kelly who sang "Once Upon a December" and Sophomore Blaze Grabowski who played the saxophone and piano. In addition, Freshman Elijah Pontier sang "Shallow" from the movie "A Star is Born" and Freshman Yomna Hammouda sang a rendition of Alicia Keys' "If I Ain't Got You." Senior Kier Alexander sang a cover of Frank Sinatra's "My Way," Physical Education instructor Mr. Daniello sang "Nothing Compares to You" while playing the guitar, and Nurse Collins performed the Hustle.

The entire show was hosted by juniors Steven Gomez and Jason Taylor and Junior Class Advisor Ms. O'Driscoll.
About the Contributors
Jenny Marcinkowski, Lead Editor: District Initiatives & Community Affairs
Jenny has returned to the Cat's Eye View staff for her senior year. She is caring and very dedicated to her school work. In her spare time, she enjoys...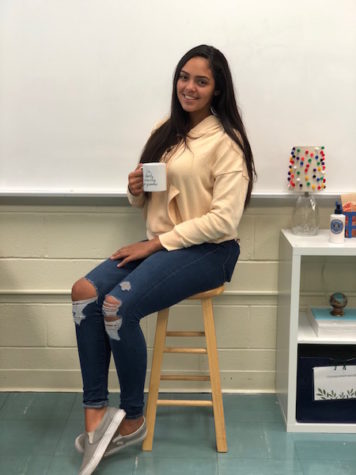 Jaylen Nuila, Staff Writer
Jaylen Nuila is a senior and will begin her second year as a staff writer for the school paper. At Becton, Jaylen is very involved and plays on the varsity...