Did anyone besides Kansas City Chief fans truly know of Travis Kelce before his romantic rendezvous with the globally acclaimed singer Taylor Swift? Or was he just another football player? Fanatics of professional football and "swifties" (Taylor Swift's fandom name) cannot stop gossiping about the relationship between the newly named billionaire and potential NFL hall of fame inductee.
Taylor Swift is a world renowned singer, songwriter, and performer. She is most recently celebrated for her successful Eras Tour concert that has caused earthquakes and her latest re-recorded album "1989 (Taylor's Version.)" When interviewed, Becton's biggest Swiftie – Julia Bubendorf, has happily professed, "I love her. I think she is one of the most genius songwriters of our time." Bubendorf also claimed that Swift continues to "change the game" for the female pop genre and reminds the press not to underestimate her skill.
While on her magical Eras Tour, NFL's tight end Travis Kelce attended a show at his team's home arena, Arrowhead Stadium. He revealed to "People Magazine" that his attempt to get Swift's phone number crashed and burned. He tried to gain recognition by partaking in the tradition of her tours and making friendship bracelets. He had made one for her, but when she denied him the opportunity of meeting her, he took it very personally. For a football player, Kelce seems to be just as in tune with his emotions as the songwriter.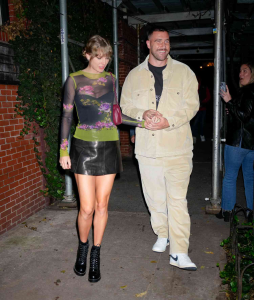 Their relationship had been rumored when references to Swift's song lyrics such as "Shake it Off" were made during Kelce's reports. Eventually, Swift was photographed attending Kelce's football games. After a few months of consistent romance and several paparazzi pictures, the ESPN reporters and statisticians have began calculating Kelce's difference in performance when his internationally adored lover is present. Ultimately, Kelce plays better when enchanted by and graced with Swift's presence.
When Becton was surveyed, most were on the fence regarding the realtionship. One shared, "Honestly, I don't know if it's my place to speculate this… but I don't have super high hopes. This could never stop me from supporting Taylor, but I still won't be watching any football games." On the other hand, another shared, "I am happy for the both of them! It seems that they're both content with each other and I enjoy that we see a lot of them in the press, unlike how Taylor's last boyfriend shunned away from the media. I think Kelce brings out something in her."
Most of the surveyed population did recall which NFL team Kelce was currently playing for. Becton English teacher, and former cheerleading coach, Mrs. Kathryn Scalera, exposed that she was very familiar with Kelce, if not just as much as Swift. She agreed they are both great at their professions but that if /when they decide they will no longer be together, Swift will definitely write a song summarizing their past.
Overall, most people of Becton and the country do not see the relationship between the 12-time Grammy winner and Ohio native lasting very long. Most say it has to do with Swift's unfavorable choice in suitors; however, things seem to be going well for the pair thus far. Clearly, the couple will remain in the public eye permanently.