Senior Novello works alongside 'world-renowned physicians' through Becton's CEIP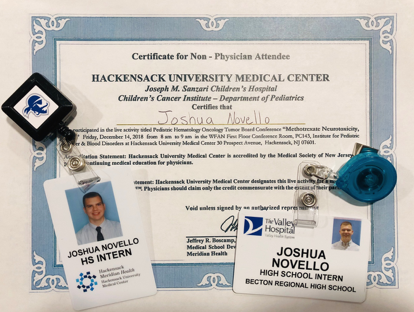 Senior Joshua Novello is not only excelling in the classroom, but also balancing two medical internships through the Becton Regional High School Career Exploration Internship Program.
Josh is a high school intern at the Joseph M. Sanzari Children's Hospital Research Center in Hackensack and The Valley Hospital Emergency Department in Ridgewood, both of which he attends five days a week.
When beginning his journey in the medical field, Josh did not realize the incredible opportunities that would present themselves. "I never imagined being able to shadow and work side by side with world-renowned physicians and other amazing medical professionals," he said.
At both facilities, Josh's daily responsibilities vary based on the cases and situations that present themselves. As a research assistant at the Hackensack Center, the honor roll student attends Tumor Board Conferences and patient care meetings, as well as shadows multiple doctors. In addition to all of this, while at The Valley Hospital Emergency Department, he takes vitals, transports patients to their rooms, and assists them when they are discharged.
The Becton senior takes his internships very seriously with the intention of one day becoming a pediatric physician. Currently, he plans on attending Seton Hall University in the fall as a biology major and completing the requisites for their pre-medical program.
The future Becton graduate feels that his internships have effectively prepared him for the real-life workforce. "I would highly recommend that any Becton student applies to the Career Exploration Internship Program during his/her senior year. After working hard and being a good student throughout my time in high school, it is a privilege to have the ability to gain real experience in the field I want to pursue," said Josh. The senior encourages all students to take advantage of the amazing programs at Becton.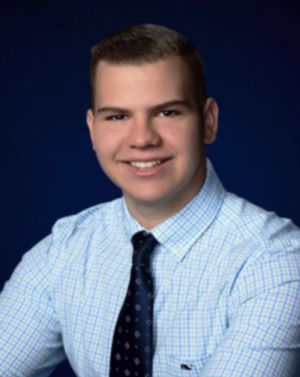 The biggest challenge for Josh is adapting to his demanding work schedule. "Time management is a critical part of my life. Besides school and my internships, I am a musician, singer, volunteer firefighter, member of many clubs, part-time employee, and participant of other extracurricular activities," he stated.
In college, Josh feels time management will be an even more important factor in his life. "Time management will also be crucial for me while attending college with regard to planning dedicated time to study, do homework and make time for other important activates. It was important for me to learn and understand how to manage my time and achieve the balance of juggling many responsibilities," he stated.
The soon-to-be Class of 2019 graduate stated that his most prominent role models are his parents. "Together, they raised me to be the mature young man who I am today. Specifically, I admire my mom's compassion and love, my dad's relentlessness and drive, and both of their hard work and passion for life and family."
"I would also like to thank Dr. Sforza for strongly recommending that I apply for the internship program and for being a commendable role model. I recall speaking with Dr. Sforza about the internship program and then immediately looking into the program and applying. I would like to thank Ms. Annitti, the Career Exploration Internship Program Coordinator, for working so hard to build up the program to what it is today. This experience has provided me with life-changing opportunities. I would like to thank all my mentors, specifically Cheryl Falls (Joseph M. Sanzari Children's Hospital Research Center Senior Experience Internship Director) and Katie Miller (The Valley Hospital High School Internship Director) for warmly welcoming me and providing me with many memorable opportunities. Finally, I would like to thank all of my teachers for always working with my unique schedule and understanding the importance of my internships with regard to my future professional career," stated Josh.
About the Contributor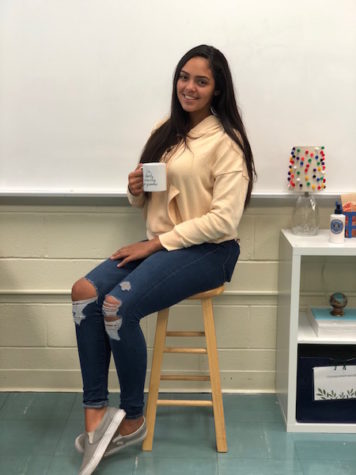 Jaylen Nuila, Staff Writer
Jaylen Nuila is a senior and will begin her second year as a staff writer for the school paper. At Becton, Jaylen is very involved and plays on the varsity...