Becton Bowling prepares to strike again
Heading into his thirteenth year as the head coach of the bowling team, Mr. Caprio said that he is looking to bring the sport back to the prominence it had in the early twenty-first century.
Guidance Counselor Mr. Caprio has helped lead the award winning team to six league championships and two state championships. According to the veteran coach, the team has hit a bit of speed bump in recent years. In regards to the 2014-2015 team, the coach states, "I expect a competitor and at least a .500 record."
This year's tryouts brought forth record turnouts. Thirty-nine students, compared to last year's 11, tried out for the team and 14 were given a spot. The lowest average of all bowlers kept on the team was a 110.
This year, Becton Bowling will be led by Senior Captain Brian Byun and seniors Adam Venturini, Thomas Heber, and David Stoltz. Mr. Caprio is also expecting "solid contributions from sophomores Zak Kandiel and Robert Emord."
Captain Brian Byun stated, "It feels good to be the leader of a team with such a great history, and I hope we could add to that history with a great season this year." He expects the group to be a great competitor and is hoping for nothing less than qualifying for states.
The season begins on Monday, December 8 and after competitive tryouts, the coach believes that their hard work and determination could carry over from practice into the regular season.
About the Writer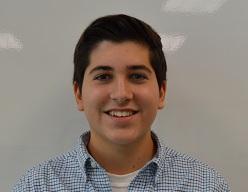 David Stoltz, Staff Writer


David is currently a senior, but as a junior, he was nominated for Boys State. For nearly four years now, David has been a member of the debate...