2022-2023 NJIC Coach of the Year: Mike Ryan
Becton's Girl's Basketball Team has had an amazing season! The Varsity Girl's Basketball team is coached by Mike Ryan, who has been awarded the title of Coach of the Year for the Meadowlands Division. Ryan expresses his gratitude, with this touching statement, "Winning coach of the year means to me that I had a team that worked hard in practice and the games. You cannot win this award without good players and good people, and I was fortunate to have that on my team this year. When I won this award, I was thrilled because I feel it's a reflection of our program and not necessarily on me but more on what the team accomplished."
Ryan has been coaching the Girl's program from 2003 to 2011. He left the program for work but came back 3 years ago. This is his 12th year in the program. He started coaching in college with football. He soon realized it was one of his talents. He enjoys seeing young aspiring athletes compete towards a common goal. It takes hard work and dedication to overcome obstacles in athletics. Ryan shares how one of his favorite moments in coaching is seeing his teams give it their all into each and every game and walk off, knowing they tried their hardest and regardless of the results they are still a winner. Ryan adds, "We had a very young team this year although very successful winning 19 games.  I look forward to working hard in the off-season, coming back, and having another successful year. Coaching at Becton is a pleasure for me, I went to Becton and my kids came to Becton so I am all in making the school and the Girl's Basketball program the best it can be. I am fortunate that in all my years of coaching here I have coached not only good players but even better people which is just as important."
Junior Samatha Joseph, has been a member of the Girl's Basketball team since her sophomore year. She describes Ryan as "supportive and enthusiastic." She adds, "He supports each of us on and off the court. Coach would always make sure we held our heads up after a loss and to not let one bad game define us as a team." 
Sophomore Analise Feliz has been playing Girl's Basketball since she was a freshman. She validates that Ryan always pushes the girls to work hard because he brings out the best in each individual player. She explains, "He is always proud of us, and when we are upset about school or the way we played in a game, he is always there for us and tries to give the best advice to cheer us up. He loves to teach us valuable lessons about basketball and life. Coach Ryan may be our coach, but he is also family. he thinks of us girls as his own." 
Similar to Feliz's experience, Sophomore Francesca Buda has been committed to the Girl's Basketball team for 2 years and shares that Coach Ryan radiates positivity, throughout the entirety of the season. She highlights his attitude towards coaching, "If you do something wrong, he's not the type of guy to scream in your face, instead he'll explain to you how to improve and is always positive. There is never negativity. He has a passion for coaching."
All the girls are proud of Ryan being awarded this title because of his character on and off of the court. Feliz testifies, "Coach Ryan deserved this award because he checks off everything in a coach and more. He sees the talent in us girls and brings it out of us. He motivates us to win every game, and no matter how many times we mess up, he never gives up on us. I thank Coach Ryan for inspiring us to be winners on and off the court." Joseph reinforces this by stating, "Coach Ryan is a good candidate for this award because he understands how the team works together on the court and he pushes us to be the best." 
When asked why Ryan is perfect for this award, Buda vocalizes, "I think his positivity as a coach, passion for the game of basketball, and kindness to anyone and everyone makes him a great candidate. Like I said, from when I've seen him; he's very outgoing, loves having fun and joking around, and loves saying hello to people. He also helped us to a very good record this season. We had a winning record that was high and beat some tougher teams." There is no doubt that with all the determination and dedication that Ryan has, his streak proceeds him.
Congratulations Coach Mike Ryan for an amazing season and on all the success that has been seen on and off of the basketball court! The Wildcat family applauds you!
About the Contributor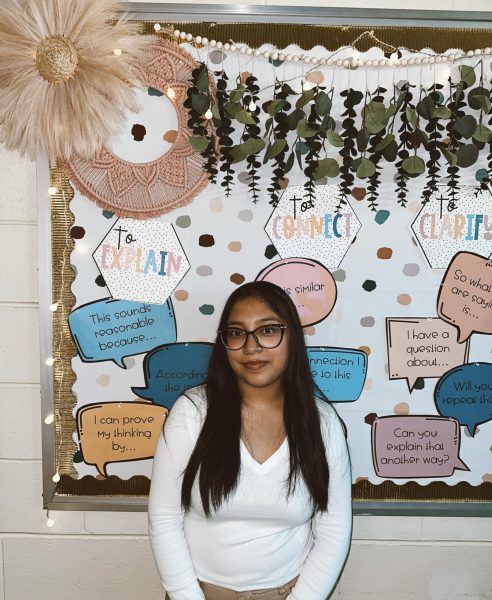 Victoria Hernandez Garcia, Co-Editor in Chief
Returning for her third and final year of the Cat's Eye View newspaper is senior Victoria Hernandez Garcia. Garcia hopes to fully master all the skills...