Becton's Anderson breaks second track & field record, Henke places first in hurdles
Senior Gregory Anderson succeeded in beating the track & field school record for the shot put on May 1. The old school record was 51 feet 10 inches, and he now holds the record with 54 feet 5 inches. The senior athlete also broke the school record for the discus last year at 158 feet 10 inches.
"I've been doing track since my sophomore year. When I throw, it doesn't even feel like I am going to break a record; it just feels natural to me at this point," Greg explained.
"It feels so good to leave a piece of history behind at Becton, so athletes can look back and say 'I remember Greg, and I hope to be in his place one day,'" he added.
The senior's training consists of two hours a day of throwing as well as working out in the weight room.
"Coach G and Coach Peck have put in a tremendous amount of their time and effort to help me get to where I am in track today from getting my throwing form right to even helping me get focused and zoned in while I'm throwing. I can honestly say that they are the number one reason why I even hold two of the school records, and I couldn't thank them enough," said Greg.
Coach Settembrino said, "He works really hard in the weight room and is a very good athlete overall. He has continuously grown stronger, bigger, and better throughout the years. Not only are his skills wonderful, but I also give credit to Coach G and Coach Peck. Because of their guidance, he was able to reach success."
Greg will be attending Monmouth University in the fall and will be playing football for the Hawks. He is not sure if he will continue his track career in college; however, he says the passion is definitely there.
Furthermore, Junior Stephen Henke has recently illustrated that hard work and dedication pay off by placing first in the NJIC Meadowlands Division League for the 110 hurdles. 
"During the whole meet, the only thing on my mind was that race. Since I won it last year as well, I had all the pressure on me to do it again. And when I succeeded, it was such a great relief and feeling. Everything I worked for had paid off," Stephen said.
The junior athlete credits his intense training for his achievements. "I've practiced a lot during the summer down at the field with Coach Sett, but I give it my all at practice every day, which definitely has made me improve as well," he said.
"Stephen worked extremely hard during the off-season with his weight training while doing some extra work with hurdling. It definitely showed during the league meet and hopefully it continues through the championship season," said Coach Settembrino.
"It feels amazing to know that I represent my team in a positive way. Last year, when I was in the newspaper, I was extremely grateful because it means a lot to have a picture of yourself in the newspaper as well as represent your team in such a positive way," he stated.
When asked about his future plans for track, Stephen commented that one of his goals is to break the school record in hurdles during his senior year. His current time for hurdles is 15.6 seconds, and the school record is 14.4 seconds.
About the Writer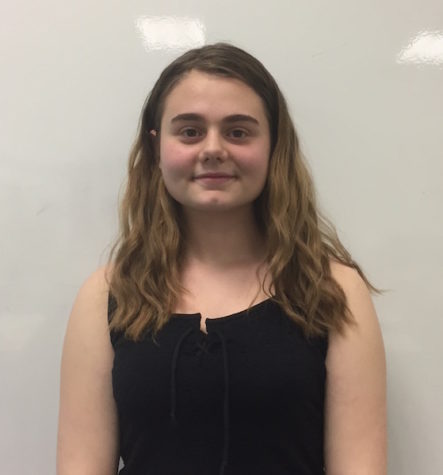 Cindy Muco, Staff Writer
My name is Cindy, and I'm a junior attending Becton. I absolutely love science. From astronomy to biology, I can last hours talking about science. I also...