Boys Track and Field Beat Becton School Record
On April 22 the boys 4×4 relay ran 3:35.5. Breaking the previous record of 3:36. Gustavo Costa, Samprit Bajracharya, Nathan Bello, and Steven Longo were the four students fortunate enough to set a new record in Becton history. The relay was split into four. Costa with 53.6 seconds, Bajracharya with 53.9 seconds, Bello with 56.1 seconds, and Longo finishing off with 51.9 seconds.
Coach Geraghty explains how breaking this record was not just pure luck for these boys. It takes time and hard work, even on the hard days, to accomplish this goal.  Coach Geraghty recalls the day as follows, "We were competing at the County Relay championship and the 4×400 is the last event of the meet. The team of Gustavo Costa, Nathan Bello, Samprit Bajracharya, and Steven Longo were gathered near the starting line, with the race set to go off in the next 15 minutes. We discussed the possibility of breaking the record, but I had a great feeling it would be broken. The boys had a confident look about them and were ready to turn some heads in Bergen County." He then continued to explain how the team beat the record and were "pumped."
When asked about his feelings towards his athletes being able to break such a record, Geraghty describes the 4×4 as "one of the most painful events in track and field." However, Coach Geraghty felt confident that this lineup of boys would pull through when they needed them most. Now that there is a new record set for the 4×4, Coach Geraghty is optimistic that Becton can keep lowering that time.
Congratulations to this group of boys for their amazing accomplishment. Go Wildcats!
About the Contributor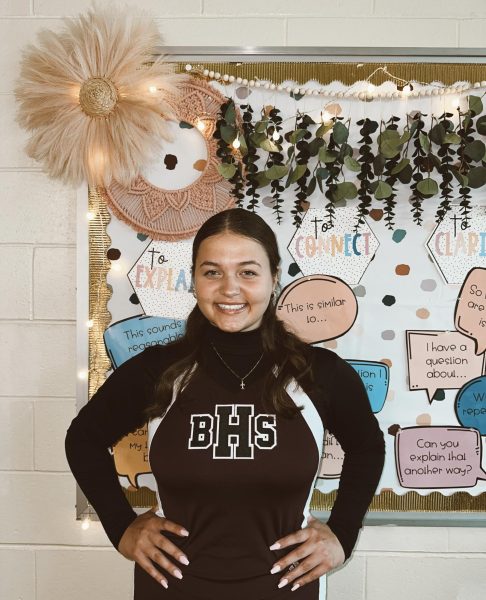 Ashlee Offreda, Staff Writer
Ashlee Offreda is delighted to embark on her second and final year being part of the Cat's Eye View newspaper staff! Offreda is officially a senior and...