Sophomore Analise Feliz Accomplishes Big Things
On June 4th, 2023, Becton sophomore Analise Feliz was named 2nd Team All-County in the high jump. Feliz was against eight other female athletes at the Bergen Meet of Champions. Out of the nine athletes who qualified, only one could win the number one spot in the county. Feliz expresses how she not only "…won this for the track team and the Becton name but mainly I won this for myself." 
This accomplishment is an honor for Feliz since she came in second as not only a sophomore, but as her first year running Track & Field. While getting second, she also beat her own personal record of 5'2 at the meet. She further expresses her feelings towards accomplishing this title, "It felt great to be named 2nd team all-county for the high jump as a sophomore especially it being my first year in Track and Field. I got to go against the best girls in the county and I got 2nd place, not only that I got a new personal record of 5"2 at this meet. So, this win is really big for me."
When athletes accomplish a goal, they have been setting out for, they normally dedicate their wins to people who helped them achieve that goal. Whether it's close friends, family members, coaches, or even themselves, athletes always have someone to dedicate to a major accomplishment of their sports career. Analise dedicated her win to her track team and her Mom– "I dedicate this win to my track team who have stuck by my side and pushed me every day to do better, without them I would have not made it this far. I also dedicate this win to my mom who has been my number one fan and supporter through this whole season." It is so amazing to see athletes supported by different groups of people and see that support boost their optimism and work drive.
To close off, Analise has a few words for any athletes that want to accomplish the same goal as her. She advises, "For student-athletes who want to accomplish this goal, I say to push every day and always put in the work. Never stop pushing and no matter how long it takes I promise you the results you will get will be worth it." And she is completely right! The more you push yourself to a goal, the quicker you will reach it, just like Feliz.
A huge congratulations to sophomore Analise Feliz from all of us here at the Becton!
About the Contributor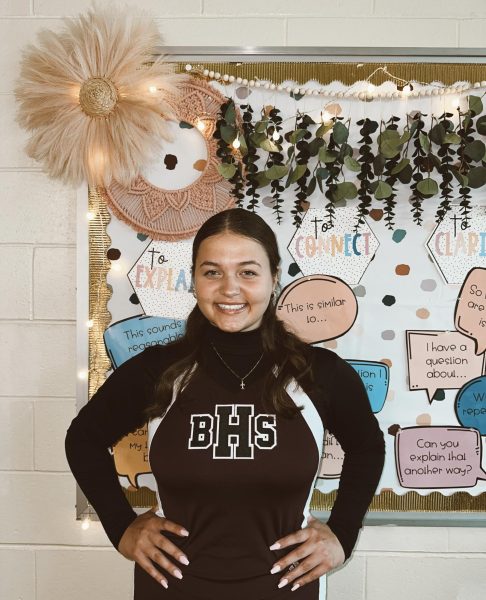 Ashlee Offreda, Staff Writer
Ashlee Offreda is delighted to embark on her second and final year being part of the Cat's Eye View newspaper staff! Offreda is officially a senior and...