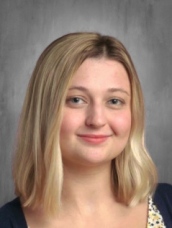 Ms. Olivia Wilson, once a substitute teacher, is now joining our Becton family as a full-time mathematics teacher! Wilson "fell in love with Becton over three years ago," and jumped at the opportunity to work here full-time, citing the school as her top choice place to work after graduating from Montclair State University. Her start as a substitute teacher aided in making good impressions while she spent her time filling in and teaching any needed position. In fact, when the opportunity arose for Wilson to sub-in long-term for Mrs. Diakos last school year, she took it, and learned alot in the process!  
Wilson reflects, "My experiences as a math student pushed me to pursue a math career. When I connected with my teacher, math was my favorite subject, but when my learning style clashed with the teacher's style, I dreaded going to math class," Wilson explains, "I want to be the kind of teacher that connects with her students and makes math a little more enjoyable for everyone." Suffice to say, Wilson has become the teacher she pledged to be, as junior Fritz O'Neill declares, "She is very easy to approach and gives off a calming vibe. What sets her apart from other teachers is her more lax teaching style." Junior Julia Bubendorf laughs, "When I had Ms. Wilson as a teacher, that was one of the few times I sat down, learned something in a math class, and seriously enjoyed it!" Wilson's strategy during class is to encourage students to set the pace for themselves for the year and truly cement each subject. 
Wilson is covering a range of classes, and this includes being an inclusion teacher for Algebra I, Geometry, and Biology. She teaches Geometry by herself, as well. When asked about her reasoning for becoming an inclusion teacher, Wilson shares a life-changing story, "I had a friend whose sister has significant disabilities. He told me she could not speak more than a few words. I said hi and talked to her for just a few minutes every time I saw her, and she began to say my name when she saw me. I realized that it was not that she could not learn or speak, but that she was simply not spoken to enough to practice. That was when I decided to get into special education. I hope to bring every student the patience and respect that my friend's sister was maybe not given enough of."
Wilson's change from part to full-time at Becton has been greatly aided by some of her fellow mathematics co-workers, as she recalls, "co-planning with Ms. Bayersdrofer and Ms. Nunez," to "sharing instructional strategies with Mr. Malyack and Mr. Jasinski during our preps." Wilson says that her favorite part of Becton is the amount of pride our staff and students have within the school, from the kind teachers to the involved students.
We are sure that Wilson will be remembered by all of her classes, as she states, "I am looking forward to making myself at home here. Now that I am at Becton full time, I am not going anywhere!"
 Welcome to the Wildcat family, Ms. Olivia Wilson!