Becton's Annual Bring Your Child to Work Day Was a Hit
Each year, Becton hosts its annual Bring Your Child to Work Day. This year Bring Your Child to Work Day was held on April 27, 2023. This celebration lasted all day. Becton faculty are encouraged to bring their children ages K-12. During this day, parents are able to take the opportunity to share and explore with their children what Becton has to offer and what a day in the life of a teacher may look like. Becton takes the time to hold fun activities and events for the young wildcats during their time here. 
Activities included Gym Adventures– where kids were able to have some fun playing in the gym, DIY Photo Frames and Birdhouse– where kids were able to be their own artists and make crafts, Decorate a Flowerpot and Plant Flowers– where the kids were able to understand the value of planting and have fun planting one on their own, Make Your Own Sundaes located at the Becton Patio– where the kids were able to indulge in a sweet treat, and finally, the children were able to tour a Fire Truck! In the afternoon, the children were able to spend some time with their parents, and due to popular demand, Becton Alumi Christian Guyre aka Snake Man, showcased his reptiles. History teacher, Antonio DiBona exclaimed, "My son loved everything, but his favorite was the reptiles!"  
This event is so memorable and special for all included. Teachers who participated in this event were able to share their enthusiasm, including English Teacher Kathyrn Scalera who reinforced, "The kids feel so important and the students here love seeing them and are so nice to them." Math teacher Kyle Mendelsohn added, "The administration goes all out and does very nice things for our kids." Additionally, Art Teacher Dawn Savincki validated, "All kids of different ages were playing and interacting together. It is a great experience for all." DiBona adds, "I think it is great for our children to see what we do on a daily basis. It's a break for them from their schooling as well." When asked why this event was so special, Math Teacher, Kelly Diakos shared, "My children were able to see where I spend my workdays, they got to meet my colleagues and students, and also have a great time!" Clearly, all the members of the Becton Community understand the value of having children take a break and see their parents at work!
Bring Your Child to Work Day is such a unique experience that Becton has to offer. We cannot wait to see the influx of children next year. This event truly shows that Becton is one big Wildcat family! 
Word on street is @BectonHS Regional has most exciting #bringakidtoworkday & today we once again defended this title 🏆!

Such a fun #WildcatFamily day with #BectonsBest Kids. #BectonSpirit #BectonFamily #TakeYourChildToWorkDay pic.twitter.com/T79RPUxrRm

— Dr. D. Sforza (@Dr_DSforza) April 27, 2023
About the Writer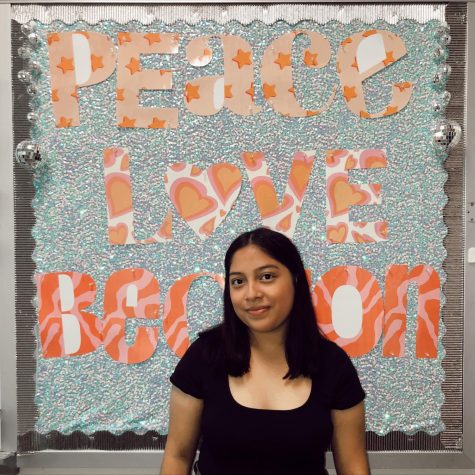 Victoria Hernandez Garcia, Co-Editor in Chief
Victoria Hernandez Garcia is coming back for her second year as part of Becton's Cat's Eye View! She is a junior at Becton Regional and originally joined...