Becton Regional's AP Computer Science Program Receives National Recognition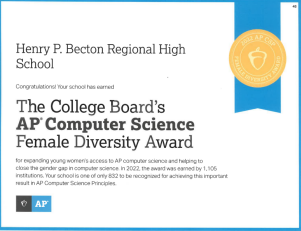 The College Board recently recognized Becton with the AP Computer Science Female Diversity Award!
On April 3, 2023, The College Board announced that Henry P. Becton Regional High School is the recipient of the AP Computer Science Female Diversity Award. This accolade is a result of the district's continued efforts in expanding AP computer science access to young women and closing the gender gap in the computer science field. According to the College Board, Becton Regional High School is one of only 832 districts to be recognized for this achievement. Director of Guidance, Mr. Marc Caprio states, "Being able to expand young women's success to AP computer science classes is exciting and a small step to reach gender parity. I'd like to thank Mr. Siracusa for leading the charge in expanding our computer science program. It's an honor to be one of the recipients of the College Board AP Computer Female Diversity Award."
Becton introduced AP Computer Science Principles in 2021, followed by the addition of Computer Science A. The district has witnessed great success with both programs ever since. AP Computer Science teacher Giovanni Siracusa states, "We are very proud recipients of the College Board AP Computer Science Female Diversity Award. This recognition highlights our dedication to advancing and making exceptional computer science education accessible to all of our students. We are honored to be a part of a community that encourages diversity in STEM education." Superintendent/Principal, Dr. Sforza states "We are incredibly proud and honored to receive this prestigious AP Computer Science recognition. Creating and expanding career-focused academic programming has always been, and will continue to be, a priority for the district. I commend our female students who do not shy away in the face of adversity, and rather embrace challenges within the STEM fields with enthusiasm. These students will walk away from the halls of Becton with valuable skills to use that will benefit them well beyond their high school career." Sforza continues, "This is one small step in making sure that some of the most critical and necessary computer science skills are in the hands of every student. I would like to thank Mr. Siracusa and Mr. Caprio for their contribution to making this award possible and look forward to continuing to grow our Computer Science and Design Thinking programs."
About the Contributor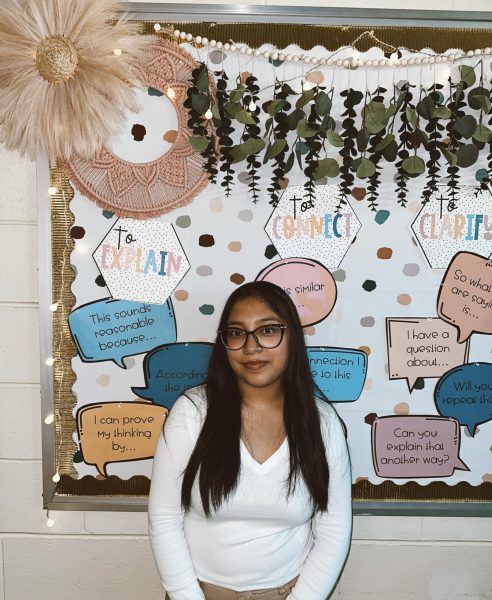 Victoria Hernandez Garcia, Co-Editor in Chief
Returning for her third and final year of the Cat's Eye View newspaper is senior Victoria Hernandez Garcia. Garcia hopes to fully master all the skills...