The Physical Education Department Welcomes Mr. Hoagland
The Physical Education Department welcomed new member Kevin Hoagland into the Wildcat family this year. Hoagland attended James Madison University from 2011-2015 and earned his Bachelor's in Sports and Business Management. After graduating, he went to Montclair State University from 2016-2018 and earned his Master's in Secondary Teaching and Education. Prior to coming to Becton, Hoagland was a teacher in New Brunswick for about 4 years. Hoagland is specialized in Physical Education and Health. He maintains a well-rounded career path. He currently teaches courses such as First Aid and CPR, and Family Health here at Becton. Outside of teaching, Hoagland is one of the Junior Varsity Girls' Volleyball and Junior Varsity Baseball Coaches, and is the Head Coach of the upcoming Swim Team. In addition, he also volunteers in his hometown of New Brunswick with local community organizations.
Hoagland heard about an opening here at Becton online and took the opportunity, "I was lucky enough to hear about the opening at Becton. I went through a rigorous interview process before being hired." Hoagland also explains his desire to teach, "I have a genuine passion for helping people, and I felt like teaching would be the best avenue to accomplish that." His transition here to Becton has been made easy through the wildcat pride that Becton has to offer, "The Becton Community has been truly a breath of fresh air. Within my first three months here I felt truly comfortable with all of our administration, staff, and students. Everyone has been so friendly and ready to lend a helping hand."
Hoagland's teaching style can be described as a hands-on student-centered approach. Hoagland incorporates real-life experiences as much as he can. His aim of providing real-life examples is to show how on any given day, anything can happen. He amplifies, "I do not believe teachers should just go up and read off a PowerPoint all period. I like students to take the lead as I step back and guide them through the material." 
Long-time Physical Education teacher, Jessica O'Driscoll describes him as enthusiastic and filled with lots of energy. When asked about what working alongside Hoagland has been like in the Physical Education Department, O'Driscoll answered with a beaming smile, "Mr. Hoagland has been a nice addition to the Physical Education Department. He works well with our staff and has developed a good rapport with his students. He has a lot of energy, which is important in teaching, especially in physical education. His energy motivates our students to engage and enhances their enjoyment when participating in each activity."
Hoagland is a wonderful addition to our Wildcat family! He reminds students and others, "Trust the process, and don't sweat the small stuff."  
About the Contributor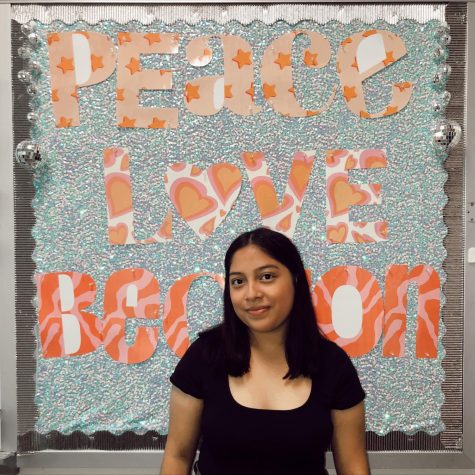 Victoria Hernandez Garcia, Co-Editor in Chief
Victoria Hernandez Garcia is coming back for her second year as part of Becton's Cat's Eye View! She is a junior at Becton Regional and originally joined...