Ian Laffler Joins the Becton Staff
Becton welcomes Ian Laffler to the wildcat community! Although this is Laffler's first year at Becton, he spent nine years teaching in Patterson at Kennedy high school for their stem academy. He taught personal finance, business and law ethics, and computer applications. 
Laffler has set some goals for his students, hoping that they will get an understanding of everyday problems that people are experiencing with financial literacy. He tries to incorporate real world stories while incorporating his personal experiences in each of his classes. He spent seven years working in financial services, working for City Bank and Merrill Lynch. He found it to be overall amazing, comfortable, incredibly rewarding, and even gave him the opportunity to share stories with his students!
Laffler attended St. Joseph's University from 2003-2006. When asked why he wanted to teach high schoolers, he stated, "I understand how incredibly short their high school time is, and how time is ticking for young adults before they're out there on their own. There is a real opportunity to cover really important life skills." 
Laffler likes to include his musical skills by playing guitar and singing for his students. If there is a song that ties into his lessons, he finds it to be an opportunity to tap into his student's musical and emotional learning. 
One of his students- sophomore Isabella Leston-had mentioned how much she enjoys Laffler's class. "Mr. Laffler has been helping me understand the aspects of marketing while making his class enjoyable at the same time!" she commented. When asked how he makes his class enjoyable, sophomore Luna Celemi stated, "he likes to make jokes with his class and engages with his students."
Laffler expressed his goals for the future with confidence by saying, "In all seriousness, I hope to become the number one business teacher in the state of New Jersey. But more importantly, I want to be able to have my students come back in a year, two years, or however many years it may be, to say 'you achieved your goals and in-turn helped me achieve mine'." Laffler will leave a big impact on Becton in the many years he will be here!
About the Contributor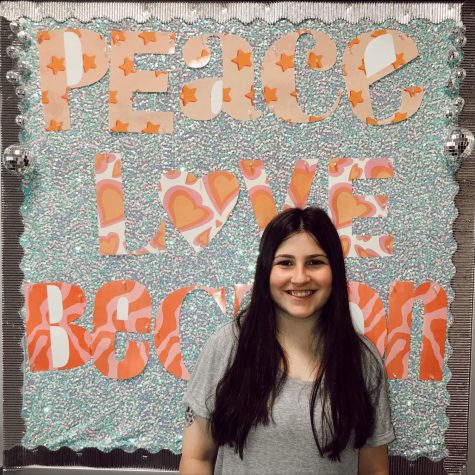 Rose Padovano, Staff Writer
Rose Padovano is entering her sophomore year of high school at Becton Regional. She is very excited about the upcoming school year and can not wait to...