VanClief and Brown Crowned 2022 Becton Homecoming King and Queen
On Friday, Oct. 14, Becton seniors Mikey VanClief and Lia Brown were crowned Homecoming King and Queen. Alongside the King and Queen stood the Homecoming Court consisting of seniors Tenzin Yiga, Aimee Bulger, Antonio Almeida, and O'Maury Gray-Rice! To add to the excitement, the Becton Wildcats won their annual Homecoming game against the Secaucus Patriots at Riggin Field.
Senior Lia Brown, a Becton Cheerleader, was named Homecoming Queen. Brown has had a long-lasting passion for competitive cheerleading while also spending her high school years on the school cheer team and being in charge of the Becton Jungle– responsible for the thrilling student section. Brown believes she won Queen due to her regular involvement with the student body. Brown exclaims how being involved in the homecoming process altogether was rewarding and exhilarating on its own. Teacher at Becton, and cheerleading coach, Daniella Polmann, expresses her genuine thoughts on Brown,"I have had Lia as a student before, and she just radiates positivity. She was an active participant so much so that she encouraged the class to participate as well. This is the energy she brings to the cheer team and student body at Becton as a whole."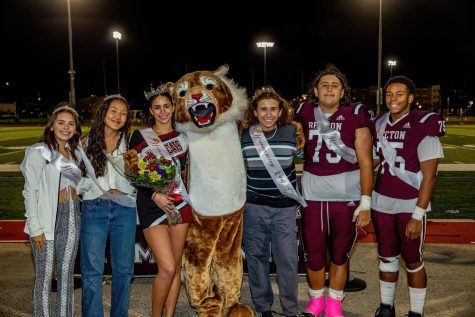 Likewise, VanClief is also a school leader. VanClief is the captain of the Becton Tennis team and a crucial part of the GSA club at Becton. In response to getting crowned, the Homecoming King shared, "I did not really think I had a chance of winning because of the people I was up against! It was definitely a heart-warming surprise." Although VanClief was uncertain, peers and teachers thought otherwise. Polmann, also Homecoming Coordinator, shared a genuine moment between her and VanClief, "Mikey came up to me after the ceremony had ended with a face of shock and gratitude, thanking myself and Ms. O'Driscoll for setting up the Homecoming Crowning. This is the humble attitude of Mikey VanClief that earned him the crown." VanClief expresses his thanks and gratitude for all of those who voted for him, "Thank you to everyone who voted for me as King! I will never forget this."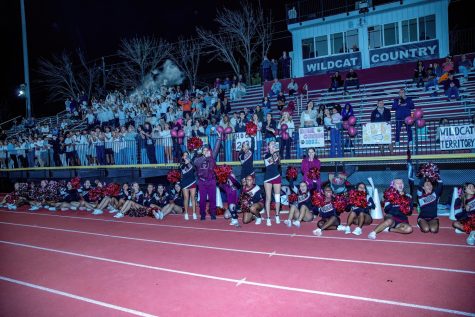 As the Homecoming Court was preparing for the results, the student section was also deeply invested in the game going on. The Becton Football team went against the Secaucus Patriots, and while in the beginning had every watcher worried, the Wildcats eventually secured victory for their Homecoming game. Football player Max Thorne had a perfect view of the whole game and explained, "Everyone who played had only one focus at the time and that was winning the game." Thorne expresses how badly the team wanted to take home this victory to make everyone's Homecoming night even more special.
About the Contributor
Kimi Tampadong, Staff Writer
The Cat's Eye View welcomes the newest member Kimi Tampadong! She is a sophomore at Becton Regional High School. As a writer, she hopes to gain a new...