School spirit and involvement becomes main focus for Class of 2019
A leading goal of this year's graduating class is to increase school spirit and motivate students to become more involved at school functions, and currently, the growth of enthusiasm and participation can be seen at various athletic events, especially football games.
Senior Stephen Henke, who is one of the organizers of Becton's student section at athletic events also known as "The Jungle," expressed, "One of my motivations for school spirit is definitely wanting to remember my senior year. I've always been jealous of other schools who have a lot of school spirit, so I thought that since it's my last year at Becton, I should make a change by bringing it to everyone so they realize how much fun we can have with it."
"They're setting a goal for underclassmen [to follow]," stated Freshman Sebrina Castillo.
To get more students to participate at the September pep rally, Physical Education Teacher Ms. O'Driscoll, along with the help of Athletic Director Ms. Giancaspro, added a half-court shot contest. This challenge created competition among the students, and in turn, helped fill the pep rally with unceasing cheering and excitement. Furthermore, Ms. O'Driscoll worked with Cheering Coach Mrs. Scalera on adding brand new cheers and introducing the football players separately by class. The physical education instructor also played music throughout the entire event.
As far as why she added various novel ideas to the school's pep rally, Ms. O'Driscoll stated, "School spirit trickles down to other students and helps get them involved."
Junior Jilian Kaszka commented, "It makes me want to have a fun class next year."
With new ideas, such as dressing up for the Sept. 14 football game against Hasbrouck Heights in a Hawaiian theme or in a patriotic theme at the Sept. 21 football game versus Lodi, seniors are hoping to get more classmates excited to support their school and as a result, frequent the games.
To keep up with the school spirit momentum, the graduating class plans on implementing a spring pep rally and supporting various other school sports. Most students attend only football games because they are night games, unlike the other sports, which take place mostly after school.
"Perhaps, if we had a change such as having more games at night, it may increase the number of people coming to other games," agreed Ms. Giancaspro.
"Our school spirit is on the rise because we have more students coming out to support their classmates, but I would like to see the faculty and staff come out more," she added.
About the Contributor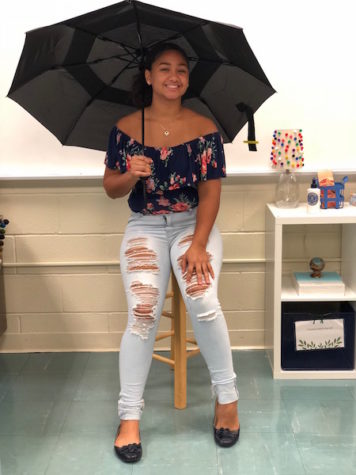 Samirah Reyes, Staff Writer
Samirah Reyes is a 15 year old sophomore who attends Becton Regional High School. She enjoys playing both volleyball and basketball at school. Her favorite...