Boys' Varsity Soccer Named NJIC Champions for the First Time in School History
This October, Becton's Boys Varsity soccer were named the 2022 North Jersey Interscholastic Conference Division Champions. Tying for first place with Bergen Charter and Wallington, the boys had a phenomenal record of 11-7, scoring 45 total goals and accumulating 129 points. Senior captain Sal Fonseca led the team with 15 individual goals, 8 assists and 38 points. Senior captain Brandon Gjekai followed suit with 11 individual goals, 6 assists and 28 points. Sophomores, Steven Longo and Saif Ahmed, both contributed 18 points each to secure their spot in first. Goalies Leo DeMelo and Domenic Maucione further contributed to the team's success with DeMelo's 50 saves and Maucione's 75. 
The 2022 season was nothing short of exciting for this team. One of the most exciting games of the season by far and wide was at Red Bull Arena against Wood Ridge. The suspenseful 90-minute match that carried into overtime, just to be won minutes later by a Golden goal by Gjekai, will be remembered for years to come not only by the players but by staff and students alike. Fans filed in dressed in red, white, and blue to support the boys and cheer on their victory. 
Another highlight from the season was the camo-themed game against Wallington. The student section showed their support for the boys at the match at Wallington High School on September 21, 2022. Although the game did not end in Becton's favor, the team played excellent and fought hard the entire match despite being down by one goal. 
The team concluded their season and said goodbye to the four senior captains on October 21st with a 6-nil upset against Hasbrouck Heights. Fonseca scored 4 out of the 6 goals, ending the season and personal career on a high note.  
Senior Captain, Joseph Longo explained how ureal it felt to be named the Division Champions, and why this title meant so much to him and his teammates, "What makes this championship unlike any other is that we are the first Becton boys soccer team in school history to have accomplished such an achievement. I am grateful to be a part of it." When asked about how being a captain changed his perspective on the game, he says that his focus had to be on multiple players on the field at once, not only just himself. Longo also notes that he needed to hold his teammates to the highest standard of play and felt it was his job to "…pick up every single teammate and push them to keep going." Finally, Longo ends with insightful advice to upcoming seniors to not hold anything back and urges them to, "…enjoy the moment, because it goes by really quick. It is going to be the best 3 months of your life." 
Senior Captain Brandon Gjekaj similarly explains that bringing a title to Becton feels extraordinary, and describes it as "Long-awaited, and well-deserved." Gjekai says that his most memorable moment from the season was the match at Red Bull Arena and recalls his teammates jumping on top of him following his overtime goal. Putting it plainly, he described it as the "Greatest night of my life." He mentions that by being a captain he needed to hold not only himself accountable, but the whole team when making mistakes and errors. Lastly, Gjekai says as parting advice, that the upcoming seniors should, "Take the freshmen under their wing. After all, they are the future of Becton soccer." 
Overall boys' soccer had an amazing season. From playing at Red Bull Arena, being named NJIC champions, to having multiple players voted for top player in the state, the team shows great heart and determination. The future of boys' soccer shows bright prospects as they move into next season with the possibility of the first-place title, and the talent and skill from new and returning players. 
About the Contributor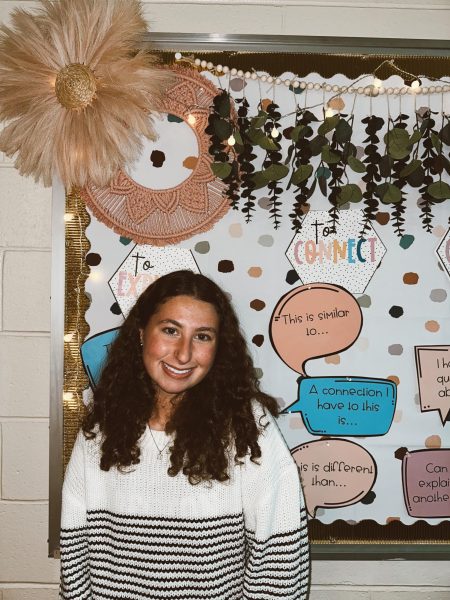 Olivia Busa, Co-Editor in Chief
Olivia Busa has joined The Cat's Eye View staff for her junior year at Becton Regional! Excited to write about events happening in the school community,...