Fall sports comes to a close as Becton prepares for another amazing winter sports season. The end of any sports season often can be quite emotional as many seniors are saying goodbye to the sports, teammates and memories they have made in their four years at Becton Regional. To celebrate the seniors final moments as wildcat athletes– teammates, parents and coaches come together on senior nights to make an especially memorable experience.
Football Senior night took place Friday, Sept. 29 2023 against Glen Rock at Riggin Memorial Field. Although the outcome was not favorable, it was a tough game with persevering performances all around. Senior cheerleading captain Ashlee Offreda explains that she will miss the Friday night lights and bonding with her teammates! "My favorite memories are the after school practices and games when the whole team is brought together and gets along. Along with the bus rides where we all are able to have a good time together."  Congratulations to the senior cheerleaders: Ashlee Offreda, Brooke Emerson, Veronica Isky, Genesis Gabriel, Vanessa Frank, and Jhoanis Marin-Arrojo.
Congratulations to football seniors Steel Grabowski, Chris Zawadzki, Jalen Powell, Malakai Ottey, Jayden Rodriguez, Shawn Healy, Vicente Peralta, Aidan Park, Anthony Bravo and Domenic Colaneri and marching band seniors Kacie Lu, Alana Marcial, and Tuana Aydogan.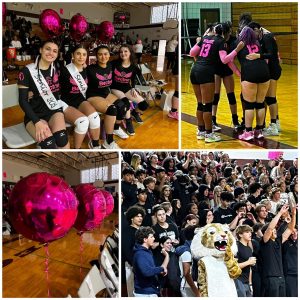 Girls volleyball celebrated their senior night on Tuesday, Oct. 10 2023 with the exhilarating Battle of Paterson Ave. Each year, neighboring town, Wallington, plays against Becton Regional in an intense game in which the winner is awarded with Paterson Ave Street Sign Award. Taking place in October, this game also serves as a fundraiser for Breast Cancer Awareness Month. The team fought hard til the very end in a very intense match, and everyone gave their best effort when stepping on the court. Seniors, Angela Korca, Julia Semon, Alexandra Vega and Veronica Guerra had the support of their teammates and fans.
Posters and decorations made by teammates lined the gym to show support and gratitude for the seniors on their special night. Looking back at her last season of volleyball, team captain Angela Korca shares, "Playing on senior night was very surreal. It hit me then that I'd never step on the court again with these girls. It made me very emotional afterwards, but also very proud of myself as I was able to end my last game at the semi-finals."
Korca gives insightful advice to other athletes, "One piece of advice I can give to other student athletes is to really focus on school because that will always be your number one priority. As for the athletic aspect, always set those big unrealistic goals for yourself as you will truly be the only one to ever see how far you can push yourself."
Korca fondly reflects on her senior season saying she will miss the bonds she has made while playing volleyball and the family atmosphere. Korca ends by reciting one of her favorite memories from freshman year recalling, "One of my favorite memories while being on this team has to be when I won my first JV game my freshman year against Wallington. Three years later, we come back to Wallington to verse them one final time at our state game and we walked away with the win. It's one of those memories I'll remember forever."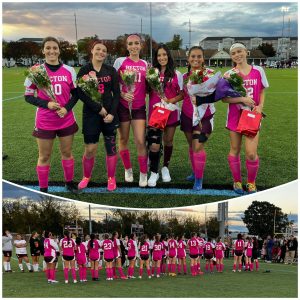 Girls soccer senior night took place on Oct. 16 2023, home at Riggin Field against Leonia. The nail-biting game ended in a tie of 1-1. Senior Guiliana Diaz scored the tying goal in the second half with an assist from Senior Captain Samantha Joseph. The field was decorated with posters and balloons showing support for seniors, Madison Kirk, Samantha Joseph, Briana Seidel, Liana Villalobos, Guiliana Diaz and Leah Rodriguez.
Joseph looks back on her senior season explaining, "It was heart-wrenching to play my last game of high school soccer. I played my heart out and just did not want it to end. From the beginning, high school soccer has brought many people into my life and the memories we have together I will always cherish."
Joseph ends by leaving a piece of advice to other athletes saying, "Work hard and play every game with your full potential. Do not let one bad game get to you and play every game like it's your last." Congratulations Lady Wildcats!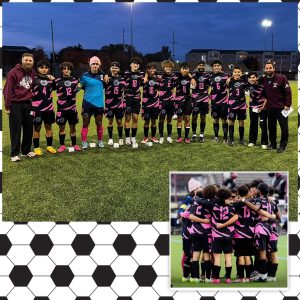 Just a few days later, boys soccer celebrated their senior night on Oct. 19 2023 home at Riggin Field against Saint Marys. The boys emerged victorious over Saint Marys with a 6-1 win. Senior Captain, Jasdeep Nagra reflects on his last season of Becton soccer explaining, "It was very sad to play my last game of high school soccer. I have played with many people on the team for several years now and realizing that I won't play another game with them ever again was very upsetting. One thing I will miss the most is spending time with all my friends. Playing soccer helped me make friends at the beginning of high school and over the years I was able to even get closer with them. It was always fun being able to see them at practice."
Senior Captain, Kyron Soumpholphakdy expresses his gratitude for the sport, "I will miss my teammates and the bond we created over the years," Soumpholphakdy adds, "This sport has brought me new friends since the start of high school and the memories will be with me forever."
Senior captain and goalie, Domenic Maucione shares a similar experience as his other teammates. Maucione explains that his last game was a mix of emotions, describing it as "bittersweet." "It marks the end of a significant chapter in your life as an athlete. There's a sense of accomplishment and nostalgia, but also a feeling of finality."
One piece of advice that Maucione leaves to student athletes is "Work hard, stay dedicated and remember that sports can teach valuable life lessons such as teamwork, discipline and perseverance. These lessons can be applied in various aspects of life."
Congratulations seniors, Jonathan Gotay, Jasdeep Nagra, Chris Youseff, Salvatore Pena, Domenic Maucione, Anthony Spzerlak, and Kyron Soumpholphakdy.
Girls tennis celebrated their senior night on Oct. 12 2023 at the home courts of McKenzie Field in East Rutherford. Senior captain Skyla Talalkson reflects on her final season, explaining that she was happy she could end her senior year being in good company.
Talalkson thoughtfully gives advice to other athletes, stating, "Hold on to what brought you into your sport in the first place. We often focus too much on success and lose sight of the joy of playing and being part of a bigger whole than ourselves."
Tallakson fondly looks back at her time playing Becton tennis reminiscing on the interactions that the sport has brought her, "What I will miss most about playing high school tennis is how genuine my opponents can be. Regardless of the result we are able to simply enjoy versing one another and have friendly conversations between games. "I love the intimacy of tennis and how personal it can become."
Senior Captain Marcella Tong looks back on her first game and notes how far she has come throughout the years. Tong explains, "I was thinking that this was the end of my high school tennis career, however this season, like others, created new achievements and memories for me, and I'll continue to carry that with me as I go to college and beyond."
Tong adds that she will miss the team dynamic. "From the very start when there were just a few of us after COVID, to now, there have been many memories made, many lessons learned, and overall we are different people than from when we began. Our distinct personalities definitely made practices, bus rides, games and wins memorable!"
Congratulations to Girls' Tennis seniors, Skyla Tallakson, Marcella Tong, Yasmin Hassouni, Amaya Manning and Anastasia Georgas!
While senior night is a genuine and kind gesture, nothing will be able to fully encompass the emotions the athletes are feeling as some play their final high school games. During the four years playing a sport, the bonds made and the memories shared are some that will last a lifetime.
Becton congratulates all senior student-athletes on their final fall season as a Wildcat, and wishes them nothing but the best for the school year ahead!