Becton Boys Soccer Takes Victory over Wood-Ridge at Red Bull Arena
On Monday Oct. 10, 2022, Becton's Boys Varsity soccer competed against Wood-Ridge at Red Bull Arena. Senior Captain Brandon Gjekai secured the golden goal during overtime, awarding Becton a 2-1 victory. Fans filed in to watch the cross-town rivalry game that was nothing short of suspenseful. 
Although Becton emerged victorious, Wood-Ridge started out strong, scoring a goal in the 47th minute making the game 1-0. Becton came back with 19 minutes left in the second half, scoring on a penalty kick. Gjekai initially missed the PK, but quickly attacked the net scoring off of a rebound.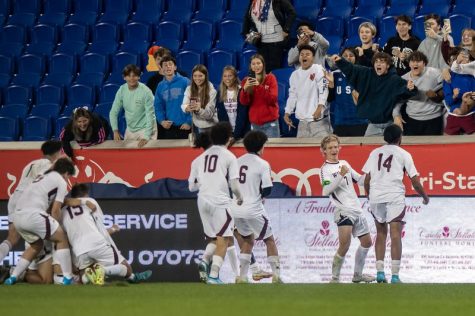 In an NJ.com article, Becton head coach Mike Furino explained that the team's changed formation was crucial to the outcome of the game. The nail-biting score at the half prompted a switch from their typical 4-3-3 or 4-4-2 formation to 3-4-3, playing with 3 defenders and 3 forwards. Furino further attributes the tactical change up to "…we had a bit more pressure in (the attacking third) and I think the game began to change because we still had a lot of stamina, and with a big field like Red Bull Arena if you can run and wear the other team out, it helps a lot." 
The score remained a tie until just a few moments into overtime, where Gjekai scored the game winning goal. Senior Captain Sal Fonseca was credited with the assist.   
Gjekai recalls playing Wood-Ridge as a freshman and said "…the fire (in this rivalry) has been adding on and on. It means so much to (us) to win this game." (Source: NJ.com Article)
The game will be remembered by staff and students alike but will be a fonder memory for the players and coaches who embraced the once in a lifetime experience with heart and determination to award them a well-deserved victory. 
Current Record (10/24/22):  8-2