Ms. Dizon brings law to life for her students
History Teacher Ms. Dizon has invited guest speakers, Mrs. Koziol and Mr. Latoracca, to her criminal justice class to further educate students about the field of law.
"Bringing in these speakers allows the students to see the law from the perspective of people who deal with these situations on a daily basis," said Ms. Dizon. "They talked about how the law can affect them (the students) in real life."
The speakers discussed their experiences working with legal professionals from the law offices of Bruno and Ferraro in nearby Rutherford. Mrs. Koziol has been working for the firm for about 23 years, and Mr. Latoracca began his line of work as a public defender and then later became a prosecutor in the Passaic County Prosecutor's Office. He shared his knowledge in regard to working on both perspectives.
One controversial topic that was discussed during the class was drunk driving and the type of sobriety tests that police officers conduct when apprehending a potential drunk driver. Sophomore Carlie Koziol and Senior Letisha Arsi participated in the demonstration of these tests. Letisha was asked to perform a heel-to-toe walk and count out loud, and Carlie had to balance on one leg. Ms. Dizon explained that even when someone is sober, being asked to perform these tasks by officers can put them under pressure and cause them to fail the tests. "It opens their eyes up to how serious these situations can be," said the history teacher.
Ms. Dizon chooses speakers through networking and plans to have a few more guests within the upcoming months. "Students take an interest in networking themselves and offer to bring in family members who can talk to the criminal justice class," she said.
For example, one student's father who is a special agent will be invited to speak as well as another student's brother who works for the NYPD as a federal agent.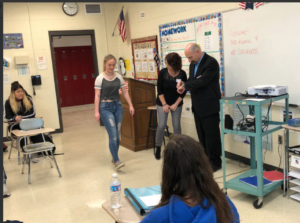 "I've been really lucky to have a group of students who are not only interested, but also have family members who are kind enough to share their time and experiences with the class," said Ms. Dizon. She mentioned that Officer Alberta will most likely to be a guest speaker as well.
In the near future, the history instructor is preparing to take the criminal justice class on a field trip to the Hackensack Courthouse.