First ever Becton 'Carnivale' celebration a success
Becton students celebrated the first ever Carnivale with art, music and decorations in the gym and snacks in the main cafeteria during their lunch period on Friday, March 3.
Carnivale is a national celebration that occurs before the religious observance of Lent, so the Art, World Language and Family and Consumer Sciences Departments collaborated to teach students more about various cultures and how they celebrate.
Planning for Becton's first Carnivale began right after the new year. Italian Teacher Mrs. Bonanno brought this idea to the Becton administration, and with the help of the world language teachers, art teachers, the culinary teacher and Department Chairperson Mrs. Gonzo, the idea was brought to life.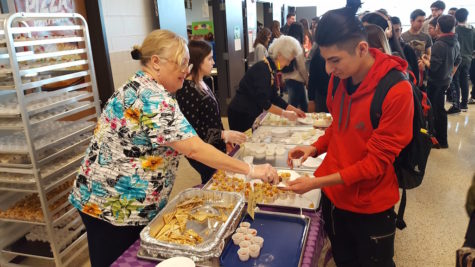 "We wanted students to experience culture and have a feel of a cultural event," said Mrs. Bonanno. She continued to mention that she hoped for students to become closer to the culture of the languages they are learning, the food they are cooking and the art they are making.
For instance, in Italian classes, students studied the traditions and history of the annual event. Furthermore, Mrs. Sanchez's Spanish classes watched videos and listened to music from the countries that celebrate Carnivale. The art classes constructed projects, including designing masks that students got to wear to the Becton celebration.
On the day of Carnivale, students were offered snacks made by Becton's Family and Consumer Sciences Department. Various types of food included coconut macaroons made by Culinary 2, struffoli and quesadillas made by Culinary 1, tres leches cake made by Culinary 3 and ravioli dolce made by all of the culinary students. The Culinary 3 class then portioned the snacks, and Mrs. Sanchez and Mrs. Gonzo brought in the juices.
"It was definitely very successful. Students appreciated the cultural event, and we hope to make it even better next year," Mrs. Sanchez said.
About the Contributor
Savannah Jones, Editor
Savannah is a senior and Editor for the CEV. She has enjoyed writing for nearly 3 years and brings that joy into every piece she writes. She plans to major...