Becton Regional's students and staff give a warm welcome to this year's newest addition to the art department, Mr. Mitchell Martinez. Martinez is the new teacher for Cultural Arts and Intro To Comm. & TV Production 2 teacher. So far at Becton, Martinez enjoys his students' willingness and desire to learn, as well as the support from his new co-workers as he gets accustomed to the school and a new routine.
Martinez attended Hofstra University in Hempstead, NY for his teaching degree, New York Academy of Art for his masters in fine arts, and even taught some classes there himself. Martinez would also later do workshops for a number of other colleges and high schools, sharing his great expertise on painting, sculpting, as well as working with various different mediums. Aside from teaching, Martinez has also worked for a handful of widely known artists, some of the more notable being Tim Burton, American filmmaker and animator, and Barry X Ball, an American sculptor based in New York City.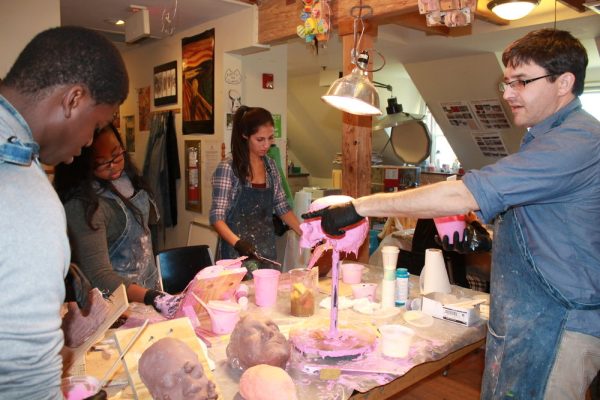 Furthermore, Martinez discovered his passion for the arts as he grew up watching his father, a high school art teacher, share the joy of creation with his own students. Martinez enjoyed the way art would bring people together and help form bonds and connections amongst them, and hopes to now share that with Becton's students.
In his free time, Martinez considers himself a jack of all trades, never doing just one thing. He takes on multiple different personal projects ranging from making his own sculptors at home, entire home renovations, and to tending to his garden.
Students love Martinez's gentle workspace and teaching style. As noted by one student, "Mr. Martinez is just so soft spoken and willing to help out and connect with his students, that you just can't help but be engaged in his class and want to listen to him."
To any aspiring artists, Martinez says, "Find your yes," and "never be afraid to try something new regardless of whether you think you may or may not be good at that thing, because opportunity strikes when you least expect it."