AP US History Big Onion Trip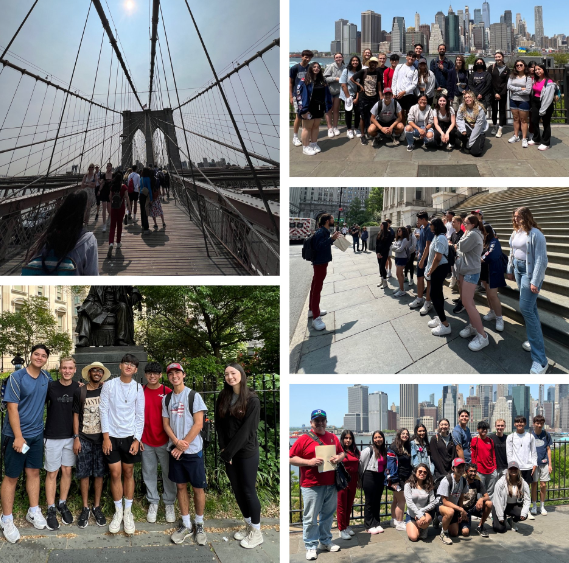 On Monday May 15, 2023 Becton students enrolled in AP US History I and II accompanied Mr. Carr on a historical trip to Brooklyn, New York. The Big Onion Walking Tour used Brooklyn as its own playing field in order to provide the historical knowledge of important landmarks and information of the city. The Big Onion trip encompassed the interesting history of the city of Brooklyn, while also allowing the students to tour the city and enjoy the day with their classmates and teachers.
The Big Onion walking tour brought our very own Becton Students the enlightening experience of being able to see the specific landmarks talked about on the tour in person. The active atmosphere in which the students interacted with the city of Brooklyn was both an informative experience for the students and the teacher chaperones, Mr. Carr and Ms. Lonergan. Becton's very own student, Ava Borntrager, who is enrolled in Mr. Carr's APUSH class and previous classes, explained, "The Big Onion tour taught me the history behind historical landmarks that hold a special place in the history of New York City such as the Brooklyn Bridge and Brooklyn Heights." Borntrager continues to talk about the key information she has learned while on the tour, including all the fun adventures she went on throughout the day.
Although this trip has been done in the past, The Big Onion Tour was still a delightful experience for everyone involved. Mr. Carr, who has organized this trip throughout the years, put in a lot of effort to inform the students about what landmarks they would be visiting, prior to the trip. When asked what the purpose of bringing the kids on the trip, Mr. Carr states, "To experience history firsthand at the Brooklyn Bridge (opened 1883), abolitionist churches (Plymouth Church, Henry Ward Beecher, 1847) and the location where Jackie Robinson signed his contract with the Brooklyn Dodgers contract (1945)."
Mr. Carr also goes on to express the importance of students being given the opportunity to invest their time into learning by experiencing!
About the Contributor
Kimi Tampadong, Staff Writer
The Cat's Eye View welcomes the newest member Kimi Tampadong! She is a sophomore at Becton Regional High School. As a writer, she hopes to gain a new...