Speaker Gian Paul Gonzalez Encourages Becton Students to be "ALL IN"
On May 18, 2023, Guest Speaker Gian Paul Gonzalez came to Becton Regional to motivate our students to be "All In". Gian Paul is a World History High School Teacher in Union City, NJ but is most notable for his work of leading the New York Giants to their SuperBowl victory in 2012 with his phrase "All In." Gonzalez has been featured on various platforms such as ESPN, Fox News, and CNN. His motivational messages have made him a worldwide successful speaker for NFL, English Premier League & Fortune 500 organizations. Clearly, his message goes beyond the field of football or the classroom.
In the Capitol City Speakers Bureau, it attests that Gonzalez was a former NCAA First Team All-American forward from Montclair State University scoring nearly 1,400 points in his 3-year career. He played in the NBA Summer League and was offered professional basketball contracts, yet he turned them down in order to continue his work with at-risk youth. In addition, he is also the Founder and Executive Director of Hope & Future, an organization dedicated to using athletics and physical fitness to share a message of hope and striving for excellence in inner-city public schools and juvenile jails.
In his most memorable talks, in order to demonstrate the idea of commitment, Gonzalez gave each football player a poker chip and instructed the players to write a goal that they wanted to commit to. This is where his phrase for "all in" was born. He inspired them to stay focused and put their chips on the table. He uplifted the players to stick with their goals and that they were the reason to keep going. As he states, "All in…it's not just a slogan. It's a lifestyle." 
Many people have attributed his dedication to his brand. David Almeida VP of Sales Anheuser Busch remarks, "Gian Paul's "ALL IN" talk is a must for any group looking to be committed to reaching their goals." Even the American Beverage Company, verified, on Gonzalez's presentation was "truly outstanding and should be a must-see for everyone!" In another account, New York Giants, Baltimore Ravens Defensive Lineman, Chris Canty, states, "One of the timeliest messages I've heard not just in my football career but in my life."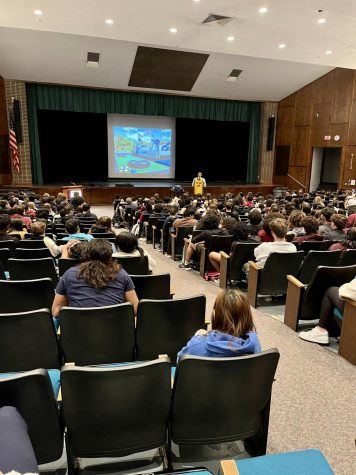 Becton's own testimony to the powerful presentation made by Gonzalez. Junior Angeles Quintuna states, "It was impactful to see another way of thinking and shows how one message can change the course of your life. I like how the school is being more involved in students' lives." Sophomore Jennifer Cajamarca agrees with Quintuna, "It came at a time I needed most. I hope Becton continues to bring more inspiring stories like these." This shows how a small message can be life-changing for some people. 
In honor of Gonzalez's story, Becton even passed out their own chips to show that anyone can do anything with the right attitude. Becton is #ALLIN. 
Sources: https://capcityspeakers.com/gian-paul-gonzalez/#:~:text=Gian%20Paul%20Gonzalez%20was%20a,work%20with%20at%2Drisk%20youth. 
About the Contributor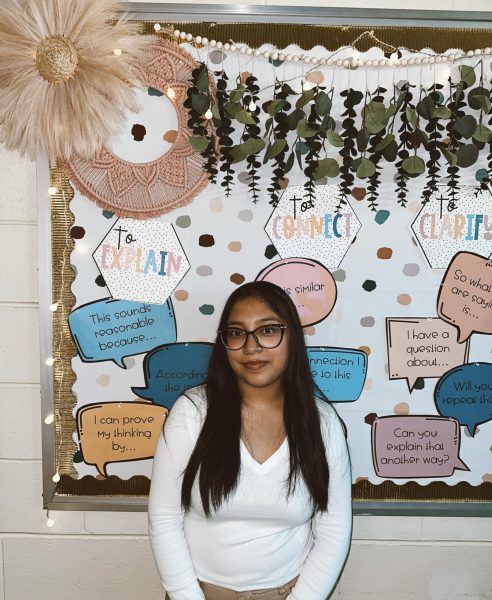 Victoria Hernandez Garcia, Co-Editor in Chief
Returning for her third and final year of the Cat's Eye View newspaper is senior Victoria Hernandez Garcia. Garcia hopes to fully master all the skills...