Taylor Swift is a Mastermind Dazzling Our Midnights
Taylor Swift's Midnights was released Oct. 21, 2022, and is already the highest selling album of the year. She continues to dominate multiple charts, recently becoming the first artist ever to have ten consecutive songs on the Billboard Top 10. Alongside that, she has sold over 500,000 vinyl and has had the largest album sales since Adele's 25 in 2015. It is needless to say that Swift is currently making history. 
What is the big idea about the album? Midnights has 13 tracks, known as her lucky number, and every song on the album entails a new alternative synth-pop sound and writing style. It can be compared to the likes of Melodrama by Lorde, and is reminiscent of Swift's own album Lover from 2019. On that note, the majority of Becton students thought that Midnights did not beat out Lover in terms of which is a better album. When asked, 57.9% said that Lover still holds that role. Despite this, a lot of students have expressed their love for the new sound. "Taylor Swift can do any genre and kill it every time," "I think she can do anything she puts her mind to," and "I honestly love it, I feel like Midnights is like a mixture of all her eras," are just a few things that have been written about the new album.
"I do not think I have delved this far into my insecurities in this detail before," Swift says about the album in a recent video clip she recorded and posted on socials. Swift has always had a way with connecting to her fans and sometimes she feels as if their experiences coincide miraculously, as she talked about during her 2020 Netflix film "Miss Americana." It is no surprise that as this album has come out, fans and students from Becton alike have all related to the tracks and lived the experience. With tracks like "Anti-Hero" and "You're On Your Own, Kid", a Becton student says, "They are some of the most relatable and make me cry every single time."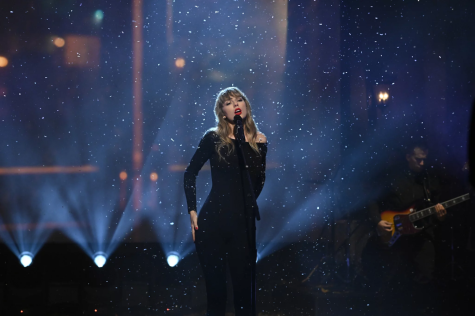 The first track, "Lavender Haze" is your classic Swift pop song with a catchy hook and smooth vocals about the feeling of falling in love, emphasis on the 'falling'. Still, it manages to not get old and has racked up over 85 million streams on Spotify. "I love Lavender Haze because it is such a unique way of capturing being in love with someone and, at the same time, having them fall in love with you," a member of our Becton community writes about the song. "Taylor Swift is able to emulate all the emotions that go into it." The next track, "Maroon", is of a similar viewpoint but this time it highlights Jack Antonoff's base-y and synth-pop that he is notorious for. Antonoff is Swift's long-time production partner, dating back to 2014. "I love the lyrics, I think Taylor is one of the best songwriters," A student praises, referring to the fast-paced and articulate words that Swift wrote for this song. The third track, "Anti-Hero" is where we start to see the vulnerability of Swift on the album. She delves into how "I have this thing where I get older but just never wiser" and her now iconic lines of "Hi, I'm the problem, it's me." The song goes for an alternative, snarky feel and pulls it off well. "Snow On The Beach", the fourth track, features Lana Del Rey as a collaborator who takes heavy background vocals. The song compares the idea of love to "snow on the beach", an almost impossible and once-in-a-lifetime experience. Briefly, she is vulnerable once more; "My smile is like I won a contest, and to hide that would be so dishonest/And it's fine to fake it 'til you make it, til you do, Til it's true."
Swift has a knack for putting complex emotions into words, and that is why she places "You're On Your Own, Kid" as track five. There is a running theme that all of the "track fives" on her albums have been the most emotional and some of her best works. It details the painful feeling of waiting on somebody who is never going to show up. The next few tracks on the album are all generally contemporary pop but still have the same charm that Swift always brings to the table. As the album comes to a close, "Labyrinth", "Sweet Nothing", and "Mastermind" detail the fear of falling in love. "Sweet Nothing is such an intimate piano ballad. Her co-writing with her boyfriend, Joe, is such a beautiful way of expressing their love for each other," A listener at Becton writes. It is the 'sweet nothing' that comes afterwards while you are taken up by the feeling of love, and the reflection as Swift tells her lover Joe Alwyn how she had everything planned out since she had met him, calling herself a "Mastermind". The most out-of-the-box song on this album for Swift is definitely "Karma", where she is snarky and spiteful in her signature way without name-dropping a single person. The chorus starts with "Karma is my boyfriend/Karma is a god/Karma is the breeze in my hair on the weekend/Karma's a relaxing thought" overall talking about how everything she has is because karma has done her well. It is burning everybody who threw her under the bus and lifting Swift up. 
This album is admitted by Swift herself to be "experimental." It is still of the same caliber as an artist who has been in the industry for over a decade but somehow, she still manages to knock herself out of the park with every new album. The song that has earned the most hearts from our Becton community is "Anti-Hero", with "Lavender Haze" coming to a close second. Swift has completely collaborated with Antonoff on this album, who had also done production on Lorde's Melodrama in 2017. Despite treading water with the new style Swift went for, the feedback is phenomenal. Metacritic gives the album a 8.5, Pitchfork gives a 7.0, and both the NY Times and The Guardian speak of the album in a positive light. She has many long-time fans here at Becton who are thrilled to listen to the album. "I think it was a smart move to go back into pop after having two alternative albums Folklore, and Evermore," a fan at Becton writes. "She was able to bring in so many new Swifties by making Midnights. She has been able to revert back to a pop but also produced something we have never heard from her. Each album is different, which is nice because there is something for everyone." Although the album Midnights is certainly not for all who tune in, it is worth a listen where you can sit down and absorb the 'mastermind' behind it all. 
About the Contributor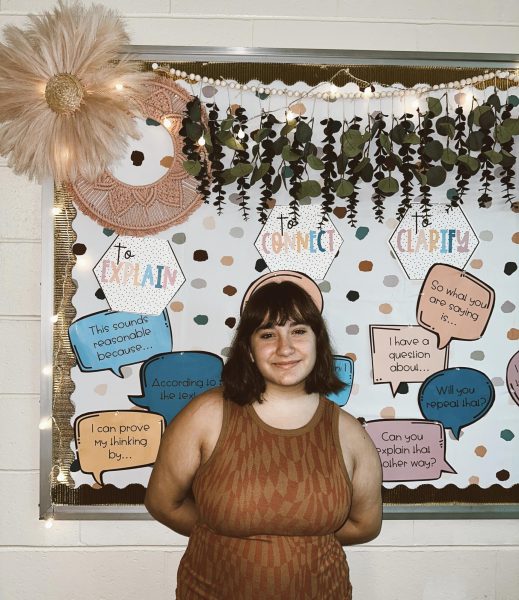 Julia Bubendorf, Co-Editor in Chief
Julia Bubendorf is a junior at Becton Regional High School and this is her second year in the Cat's Eye View. Bubendorf is also part of the GSA (gay-straight...