Domenic Maucione – North Jersey Baseball Player of the Week for April 24-30
Domenic Maucione has been playing baseball passionately since he was 4 years old and continues to show his talent on the Becton baseball team. He has been a starting varsity player since his freshman year. At the beginning of his career, he started with tee ball, little league and Babe Ruth in East Rutherford. Maucione then played for the Luna baseball academy when he was 11 and 12, where he still trains today with his impressive hitting instructor, Coach Ray. He transferred to play for the Jersey Seminoles for 2 years and he currently plays for the High Heat Rookies travel team located in Closter.
Maucione's main positions are 3rd base as well as pitching. Maucione reports, "I love everything about baseball– the demand of playing everyday and encountering something new and exciting every time you're on the field. You never know how the play, hit, or game will unravel." Maucione specifically enjoys batting and challenging himself against skilled pitchers, as well. Maucione aims to play baseball in college, preferably down south, somewhere warm, like Florida! 
Becton's Baseball Coach, Michael Lind, shares some positive feedback on his successful player, "Dom Maucione was a major asset to the team this year. Backing up his Freshman season as a second team all-league player, Dom was able to achieve first team all league this year. Throughout the course of the year, Dom was a major addition in the lineup, hitting .494 and also adding 34 RBIs. Maucione also led on the mound during this season posting a 2.96 ERA and striking out 38. During his time thus far, Dom was one of the hardest workers on the field. As a young player, his work ethic and determination has him well prepared to play at the next, more challenging level. Wherever he chooses to go, to further his education and in life, Dom will compete to his fullest potential."
Maucione was clued into his achievement of North Jersey Baseball Player of the Week for April 24-30 through his friends when they sent him the link one day before school. Maucione has an overwhelming group of supporters who are very proud of him and hope he keeps representing Becton in an encouraging way. His passion for the game is inspired by the outstanding players in Major League Baseball and uses their success as motivation. Maucione says, "my family and all the coaches that I have had since tee ball have always been there for me. They support my desire to play and they push me to work hard. I want to continue to get better. I have a lot that I need to improve on, and I will do whatever I have to do to improve." He will continue to train with his hitting coach and with offseason workouts.
As a final message to his team, "I hope that we continue to get better as a team and program here at Becton. It is fun achieving player of the week, but it would be a lot more fun to win a championship with my teammates." 
Congratulations, Maucione!
About the Contributor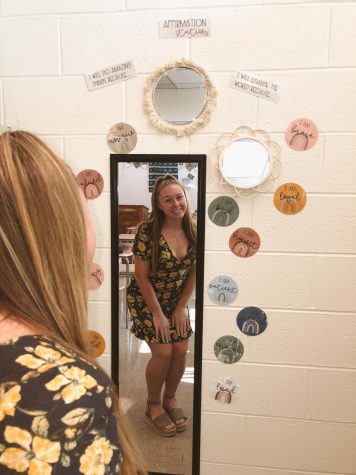 Amanda Hasch, Co-Editor in Chief
Amanda Hasch is currently a senior and is wrapping up her high school experience at Becton Regional High School. She has truly enjoyed her time in high...