Becton's December Spirit Week 2021!
Each year, Becton holds an annual spirit week right before the holidays to celebrate together as a school. December's spirit week was filled with livelihood and joy from the Becton community! Dec. 16, 2021 marked the beginning of spirit week, starting off strong with Pajama Day. Students and staff were able to bundle up with the cozy pajamas. Everyone was able to show off their favorite loungewear including many pairs of flannel pants and even some onesies! This was a hit among all the students.
On Monday, Dec. 20, 2021, the theme was Bring Anything But A Backpack, which was a new theme to spirit week this year! The Student Council saw this idea through TikTok's famous trend where students were able to bring anything they could find to carry their books to class. Some of the most popular items that students brought were suitcases, strollers, and even a tiny shopping cart! Everyone was able to show their creativity by bringing unique and hilarious items. One student even reported, "When Becton announced that they would be including Bring Anything But A Backpack, I was excited. I was going through my house looking for items that could work. Having students express themselves is a wonderful chance for both students and staff to grow. I hope Becton continues to do more fun themes!" In the upcoming spirit days, Ms. O'Driscoll sets out to provide more alluring themes with the help of the fresh and new, Student Council. 
Moreover, Tuesday, Dec. 21, 2021, was Staff/Student Swap Day! Most students opted for a more casual teacher look, but some went above and beyond with their looks. Teachers were eager to find out which of their students would be dressed up as them. In one particular case, Senior George Kasper swapped with art teacher Mr. Miranda. The costume was well executed and made everyone in the class smile. This was an excellent opportunity for students to showcase their creativity and appear as their favorite teachers at Becton.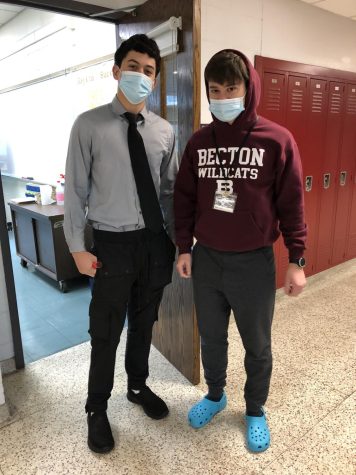 Reaching towards the end of spirit week, on Wednesday, Dec. 22, 2021 marked the last full day of the school year. The theme that marked this spirit day was Jersey Day, where staff and students had the opportunity to be able to support their favorite teams and players by sporting their preferred merchandise. From sports teams such as the Yankees to Becton's very own soccer teams, students were able to show their devotion to the beloved sport players. Staff were able to represent their favorite team and even have a battle on which teams truly deserved their wins. In a similar aspect to Pajama Day, this was another popular theme where students were able to capture the true essence of team pride.
Furthermore, on Thursday, Dec. 23, 2021, the last official spirit day of the school year took place. Students and staff were both able to enjoy their last day of school before the winter break with the theme of Holiday Attire! Headbands, hats, festive sweaters, and even Santa suits were worn. Becton's own, Mr. Bononno and Dr. Sforza took charge of welcoming students on their last day by handing out candy canes and playing Christmas music. This was more of a relaxed setting for students approaching the New Year of 2022. Teachers allowed students to wind down for the holidays which was certainly the perfect gift!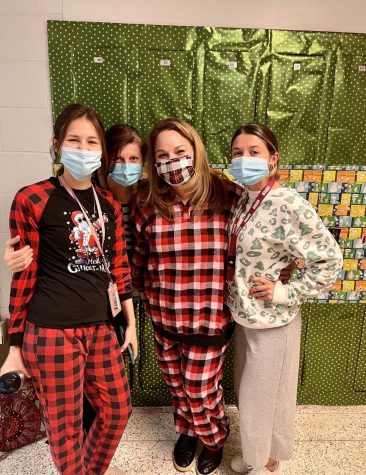 The entire spirit week was a wide success among students and staff. When asked about Spirit Week and the upcoming New Year, Ms. O'Driscoll reported "Although I was unable to participate in this year's Spirit Week, from what I viewed on Twitter, our staff and students did a great job and seemed to have a lot of fun and creativity with each theme! Looking forward to future Spirit Weeks at Becton!" Thus, spirit weeks are a great way in getting staff and students to unite together to celebrate the holiday season! Everyone cannot wait to see what 2022 will bring for the Becton community!
About the Contributor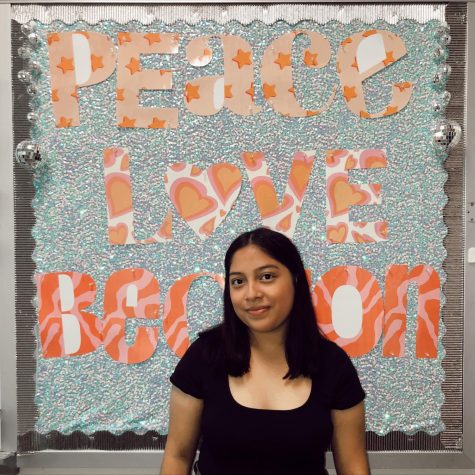 Victoria Hernandez Garcia, Co-Editor in Chief
Victoria Hernandez Garcia is coming back for her second year as part of Becton's Cat's Eye View! She is a junior at Becton Regional and originally joined...