Jaylen Nuila
Jaylen Nuila, a volleyball, basketball, and track athlete, discussed what it is like to be a three varsity sports player.
"It's hard to balance everything, so I understand why a lot of people don't play sports. I'm used to it though, so it doesn't affect me as much. At first, it was hard, but over the years it feels normal. The few weeks I don't have a practice is when it doesn't feel normal anymore," she said.
The biggest challenge for Jaylen is being able to keep up her grades, spend time with friends, and go to every game and practice.
"You need to squeeze in a nap when you can because you're always tired and carrying two bags," she said.
Jaylen elaborated on how basketball was the most challenging sport for her because "there's a lot of contact" and "it's really hard to control your temperament when you're up against another team." "Learning how to control my emotions and staying focused on the game is important," she stated.  
The senior agrees that volleyball is her favorite sport. She likes the team dynamic and everything about the sport brings her joy. She also said that it challenges you mentally because you have to keep your head in the game even when you're down. "The best feeling is when you block someone or get a strong kill. Also, Ms. O'Driscoll always pushed me to be better."
"
I encourage students to play sports and get involved because it makes high school so much more fun…and you get to leave a mark!"
— Jaylen
Participating in sports affects the athlete greatly. "It keeps my attendance on track because I'm not allowed to miss practice. Additionally, it motivates me to keep my grades up so I don't sit the bench," she stated. Furthermore, she mentioned how she tries to do her homework in between practices and games and during any free time that she gets during her classes.
"The thought of quitting came to mind at least once a week because it gets really hard and tiring and you lose motivation, but I don't like quitting. I wouldn't want to let my team down so I power through, and in the end, it's always worth it," she said.
Overall, Jaylen is going to miss the bonds that she has made with her teammates and coaches. Some of her best high school memories, she said, have been in a maroon jersey.
Aside from playing sports, Jaylen is Senior Class President and a senior yearbook editor. She also participates in the student newspaper, the Peer Leadership Program, and the Chick-fil-A Leadership Program. On the weekends Jaylen keeps busy by working at Glamour and Glitz in Nutley.
About the Photographer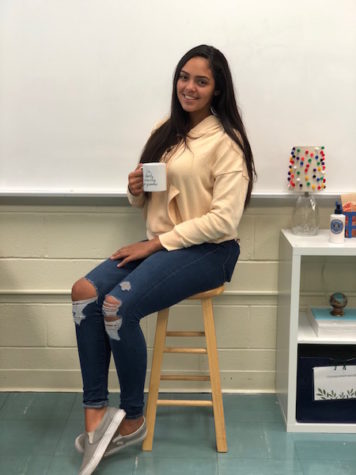 Jaylen Nuila, Staff Writer
Jaylen Nuila is a senior and will begin her second year as a staff writer for the school paper. At Becton, Jaylen is very involved and plays on the varsity...