Wooden plaque created to honor late custodian
The Becton Board of Education and Administration unveiled a commemorative plaque in honor of the high school's late custodian, Mr. John Shaw. The plaque reads "Get Home Safely," which was a phrase Mr. Shaw was well known for saying to faculty, staff and students as they prepared to leave the building.
A private dedication ceremony was held with Mr. Shaw's family this past Friday, January 4, outside of the James Williams Performing Arts Center where the plaque has now been hung.
According to Acting Superintendent/Principal Dr. Sforza, when sharing memories about Mr. Shaw, the idea came up of how to honor him.
The plaque was made with a joint effort from faculty and staff. Supervisor of Building and Grounds Mr. Phil Caputo and the custodial staff prepared the wood, and Art Instructor Mrs. Colangelo created the design.
The wood was originally from a palette used during a high school delivery. They then stained, polished and finished it. Afterward, Mrs. Colangelo applied the design. 
"We were originally going to use a website like Etsy, but we thought that it would be better to have the faculty, who he [Mr. Shaw] considered to be like brothers and sisters, design it," stated Dr. Sforza.
Mr. John Shaw, who passed away this past October, was a dedicated member of the Becton family. He was a Becton graduate and had worked as a custodian for over 35 years.
The Becton alumnus was well known for his fun-loving and high-spirited character. Everybody recognizes how much he loved Becton and its faculty, staff and students.
About the Contributors
Blaze Grabowski, Staff Writer
Blaze Grabowski is a sophomore this year and a writer for the Cat's Eye View. Blaze has been playing the saxophone for six years and the piano for three....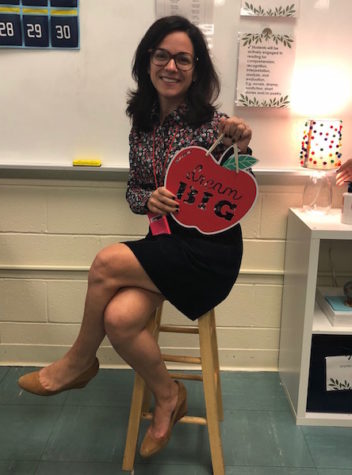 Mrs. V De Santis, Adviser
Mrs. De Santis has been the school newspaper adviser for fourteen of the seventeen years at Becton. She is an English teacher who is currently teaching...