An Evening Under the Stars — BRHS Prom 2023
On Wednesday, May 17 Becton students danced the night away at prom! The theme chosen by the prom committee was An Evening Under the Stars and all the students followed the theme with their spectacular outfits. This year's prom was held at the Valley Regency in Clifton. This year 297 people attended prom making this, the biggest Becton Prom in history!
A lot of work and dedication went into the planning of this very special event. Mrs. Torres and Ms. O'Driscoll helped set up multiple fundraisers and opportunities to help raise funds for the prom. They contacted restaurants that helped raise money as well as set up activities and tournaments where students could be involved; thus, not only were they raising money, but they were also creating memories for Becton students too! 
There was a large variety of food that was provided at the prom, and everyone agreed that it was delicious. The extensive amount of food started with a grilling station, a South of the Border Mexican station, a pasta station with assortments like risotto or vodka penne, a meat station, and a large table full of all different sides and pickings. For the main course, students were given the choice of either salmon, chicken, or eggplant parmigiana which was served with string beans and potatoes. Lastly, for dessert, there was cake and ice cream bar. As a special treat, a candy truck was also available outside of the venue which was very popular with the students.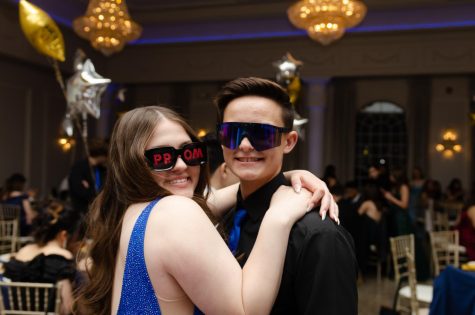 The venue was decorated beautifully. There were many star and moon decorations such as a balloon backdrop photo opportunity, intricate glass-moon center pieces, and a night sky star ceiling projector that literally put students "under the stars!" Many students took pictures in the amazing garden and the many photo backdrops set up around the venue. There also was a 360 camera that circulated the students creating a live video!
When Becton students were asked what their favorite part of prom was, many of the answers were similar. Junior Victoria Hernandez stated, "My favorite part was hanging out with my friends and dancing with them. Prom is one of the most memorable experiences that high school can offer. I think everyone should get the chance to go at least once in their lifetime." Another Junior, Isadora Alice Passoss, shared that her favorite part was "taking lots of pictures with my friends and even the teachers!" Finally, Senior Jordan Schmidt gave a shout-out to her peers stating that her favorite part was "seeing how amazing everyone looked!"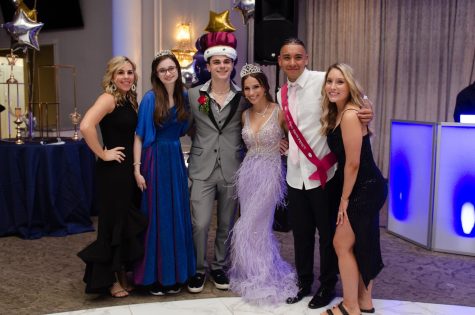 Prom Royalty Court announcements were also an exciting part of the night. The criteria to be awarded a place in the court were to be friendly, inviting, respectful, best dressed and to have danced… A LOT! Winners were chosen by teacher chaperones and this year's Prom King and Queen were the Senior twins, Natalie and Peter Schumann! Both seniors said that it was unexpected but nevertheless, they were extremely happy and overjoyed. Peter Schumann stated, "I was shocked at first, it was so unexpected but then I got excited and happy for the pictures and to have won with my sister!" In the Prom Court, there was also the Prom Prince and Princess, and the winner of those titles went to Vicente Peralta and Veronica Isky. Isky stated, "When I heard my name I jumped up and screamed! I was so excited." Peralta stated that it was a huge surprise that he won, but he was very happy and proud as well.
Congratulations to the 2023 Prom Royalty Court as well as Ms. O'Driscoll and Mrs. Torres for hosting a successful Prom! It was a night to remember!
About the Contributor
Claudia Da Mata, Staff Writer
Claudia Da Mata is a proud member of the Cat's Eye View staff. She is passionate, caring, and kind in nature. Her main priority as of right now is making...