May Student of the Month: Peter Schumann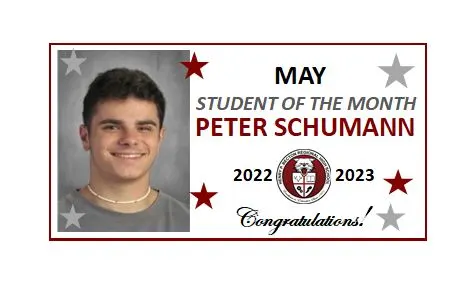 Peter Schumann is one of two Becton 2023 May Students of the Month and is elated to have been selected! Schumann is honored to share this title as well with one of his good friends, Sophia Diaz, whom he has been in various clubs with for 6-7 years. Being in AP Literature, AP European History, and AP Statistics, Schumann certainly has a lot to bring to the table as far as academics go and he does not fall short in his extracurriculars as well! He is a very active member of drama club and theater, and up until this year was in All-Star Cheerleading, which has been his life! On top of these extracurriculars, he is also involved in Student Council, GSA, Wellness Club, and the Performing Arts Center.
Schumann feels after being a part of all this, that it is wonderful for him to receive some acknowledgment from both his teachers as well as his peers. He has been working extremely hard these past 4 years, and he summed up his high school career as "busy, yet fun". Schumann admits that even if he was not elected Student of The Month, he believes it is important nonetheless to work towards your goals and find ways to motivate yourself– which is truly inspirational and shows with his major accomplishments. For instance, Schumann has made D1 Summit twice and made it to the final top 5 in his division in cheerleading!
After high school, Schumann plans on attending Muhlenberg College and majoring in Phycology with a minor in Theatre. If Peter could give anyone any advice, he would certainly tell them to "not carry the weight of the world on your shoulders and take it one step at a time. No one is perfect!"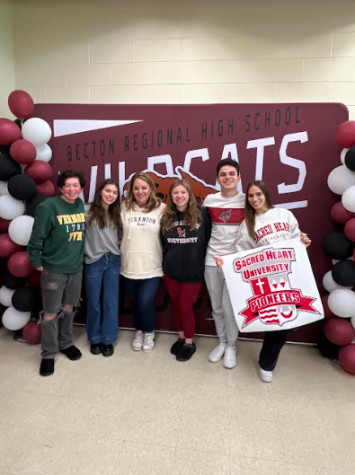 Through all of his inspirational work and accomplishments, all teachers and students agree that Schumann is definitely deserving of this title. Regarding Schumann's induction as a Student of the Month, Kathryn Scalera, his AP Literature and Composition teacher, states "Peter and I have known each other since his Freshman Year, and ever since then he has been nothing but charming, sweet, cunning, and fun to be around!" She continues, "I am greatly going to miss him as he graduates this year. I want to thank him for making these last 4 years more bearable and to enjoy Muhlenberg." Alongside the sweet words of Scalera, other teachers of Schumann's have chimed in about how much they believe he will succeed in the future, and how they equally will miss him once he leaves.
When Peter learned he has bestowed the honor of "Student of the Month", he couldn't be more grateful. He was astonished and wished to thank all faculty, staff, and other coordinators for giving her such a high honor! Schumann, again, has received this award among many others, and with his academic achievements, he is comfortably in the top percentage of his students. Outside of awards, however, he is recognized by teachers as well for his awesome work ethic, as indicated by TV Productions Teacher Justine Settembrino, "Peter is a wonderful student. He is engaged all the time in the classroom and the facets of it. I love how he probes his studies and will be excited when we do something new or interesting. He is such a wonderful example of a conscientious student, and it is with his hard work and dedication that he has attained this recognition!"
Schumann as a friend is equally beloved, with his positive energy and beautiful character also making him very popular and well known in Becton! He recently has awarded the title of Prom King alongside his sister  Natalie Schumann, showing his enthusiasm, "When they first called my name I really didn't believe it. I never in my life thought that I would win Prom King let alone share this honor with my sister, it was truly an amazing night and a moment I'll never forget!"
Becton applauds Schumann for all of his hard work and determination throughout his high school career. Becton is proud to close off this school year with Schumann being one of the last students of the month in Becton's 2022-2023 school year. Congratulations Peter Schumann!
About the Contributor
Mark Ricco, Staff Writer
Mark Ricco is a junior at Becton Regional who is passionate about his music career. Ricco has always been interested in music and the arts, but his first...