November Student of the Month: Adriana Mc Clain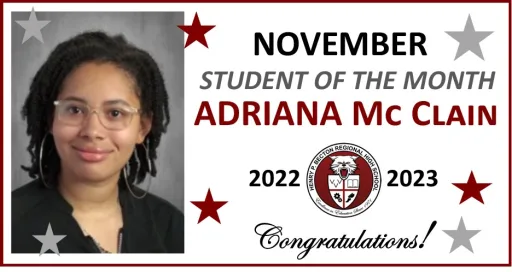 Each month one student is selected from the Becton Student Body to be recognized for their academic achievement and involvement within Becton Regional High School and the community. Becton has awarded the title of "Student of the Month" to none other than Adriana Mc Clain! She is the epitome of what a Student of the Month should be. She shared her thoughts on being November Student of the Month, "I feel very honored to have been awarded this privilege and am happy to share this accomplishment with my friends and family as they are the reason, I have been able to come this far." Mc Clain is a part of various clubs and extracurricular activities at Becton. She is active in the Debate Team, National Honors Society, Spanish Honors Society, Mu Alpha Theta, the Book Club, Horticulture, the Images Magazine Club, the Digital Arts Club, Key Club, and the newly formed Book Club. As for her academics, she is currently enlisted in 3 AP classes and 1 Honors class. McClain is certainly well-engaged at Becton!
McClain attributes her drive to put her all into all that she does. When asked about the root of her ambitions, she remarks, "I feel motivated to find academic success by a drive to do my best in everything I do. While I do not expect to always succeed or do the "best," I find what is more important than that is intending to put all you have into everything you do. I also find that when I do not do such, I often regret it later, so lately I have been trying to put my best into my schoolwork and other aspects of my life." This can-do attitude reflects the personality of who Mc Clain is on the inside. 
English teacher Kathryn Scalera has been able to witness the growth that Mc Clain has made during her time here at Becton. Being able to teach her in her English 10 Honors class and as a current student in English 12 AP Literature and Composition. She describes McClain as "mature, friendly, and she loves to read." She credits Mc Clain for her "love and zest of learning" in the classroom and outside of school, "She has a job and is still able to maintain fantastic grades. She also helps care for her younger brother. She can prioritize her responsibilities." Being able to multitask can be challenging for some, but Mc Clain has been able to defy the limits and surpass expectations effortlessly!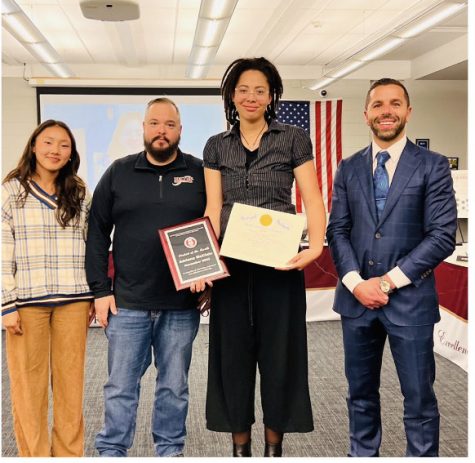 Yagoda Selwa, a fellow peer and friend of Mc Clain, reminisces about meeting Mc Clain, "I met Adriana at Faust during the 5th grade. I remember it as clearly as if it were yesterday- It was raining, and I was in my homeroom when a new girl walked in. She asked to sit next to me; honestly, the rest is history. With a mix of luck and just pure coincidence, Adriana and I were placed in many similar classes, which helped our friendship blossom." She also attests to Mc Clain's growth, "Well, believe it or not, I honestly feel that Adriana grew from being a shy new girl from Missouri to the most outgoing person at Becton Regional. Adriana is so recognizable at Becton, somehow, everyone knows her from her personality, her involvement in different clubs, and so on. She just shares her magical sparkle with everyone at Becton. I'm just so glad that she can share her confidence with everyone here. Adriana always lifts the mood whenever she is around."
Mc Clain's high school experience has been positive. Like many, she can attest to the difficult times but is always able to overcome them with close friends and family. Some of the most memorable moments throughout high school for Mc Clain have been being able to travel to Model Congress and Policy Debate. Though it may seem that she has always been outgoing, she explains that her biggest goal has been to develop and grow new-found confidence in Public Speaking, "My biggest accomplishments thus far are the speaker awards I've received at the two recent Bergen County Varsity Debate Tournaments. I was petrified by the idea of public speaking, and in my first debate, I nearly crumbled under the pressure of speaking to a room of six people (including myself). Growing to be confident enough to speak in front of a room of speakers at Model Congresses and other schools is enough, but to be proficient and even skilled at the task is an achievement that makes me immensely proud of myself. I'm happy to say that I have excelled in these activities, and these achievements push me to go even further as I continue to conquer my fears and inhibitions."
McClain is surrounded by people who inspire her and motivate her to reach all her goals. When asked about any final words for McClain, Scalera smiled and added, "I love her love of learning. She is always reading, and she is always reading outside pieces of literature. Her love of learning will make her a success in college and beyond." On a personal level, Selwa has a special message for McClain, "Adriana helped me a lot, as a best friend, classmate, peer, etc. She helped me with my confidence. She helped me have fun, let loose, and go with the flow. She showed me that it's okay to struggle and that there is always a bright future. She is amazing and deserves it all. She is passionate, enthusiastic, strong-willed, and much more. She knows what she wants, and she knows how to get there."
As for Mc Clain's future, she wishes to pursue a bachelor's degree. Although, she has not yet decided what she wants to major in, she wants to seize the moment and take advantage of new opportunities. She has big desires to meet new people, and try new experiences, "I'm looking forward to doing new things with the friends I have now and the ones I have yet to meet, and ultimately, I hope to say I had a happy and fulfilling life. My primary career interests are either somewhere in the field of art or writing. I want to be able to work with media that are frequent in pop culture and not only be able to impart my thoughts and interpretations of the world upon others, but to seek others' as well." 
McClain wishes for everyone to understand one lesson that she has learned throughout her time here at Becton, "Try your best to be positive whenever you can. Of course, while it is impossible to be happy all the time, I think it is easily found that you are the primary source of unhappiness sometimes in your life. We all choose at times to sulk, to wallow, to do nothing. We all have the power to turn that around, to choose to make ourselves happy, to walk away from the things that make us unhappy. I ask that whenever you have that choice, as difficult or as frustrating as it may be, to leave what makes you unhappy behind and you'll be all the better for it. The only constant in life is change and the only thing you can do to succeed is to change with it."  Congratulations Adriana Mc Clain on all of your hard work and dedication! The Becton Community applauds you for your triumphs!
About the Contributor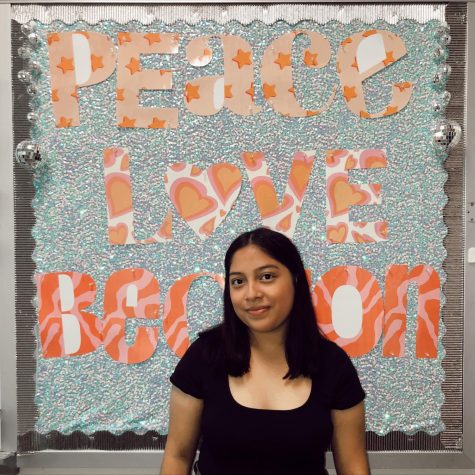 Victoria Hernandez Garcia, Co-Editor in Chief
Victoria Hernandez Garcia is coming back for her second year as part of Becton's Cat's Eye View! She is a junior at Becton Regional and originally joined...