March Student of the Month: Faith Banca
Faith Banca has been announced as March Student of the Month. With a GPA of 96.7 and a class rank of 11 out of 135, she has earned her spot as the eighth student to receive the prestigious award this year.
Faith Banca is an active member of the Becton community, serving as head photographer for the yearbook, Varsity softball captain, a member of Girls Helping Girls, an actress in Becton's production of A Tough Act to Follow, and Student Council Treasurer.  Despite all of these extracurricular interests, the high honor student still manages to challenge herself academically with advanced courses, her favorite class being English 12AP.
Moreover, Faith's most notable accomplishments lie in her tireless work for the community.  She co-founded 'Sing Into the Sunlight,' an annual benefit concert to support suicide prevention.  She was honored for her efforts with a Certificate of Excellence from The Prudential Spirit of Community Awards and a President's Volunteer Service Award.
Upon graduation, Faith plans to attend Wilkes University as a member of the Honors Program, where she will major in psychology with the hopes of one day opening a rehabilitation center for teenagers with mental disorders.
"Although I have a lot of great friends and memories I've made at Becton, I can't wait for college. I'm so excited to start studying psychology and experiencing the world outside of Becton," said Faith.
Although Faith is excited to begin her life at college, she learned a lot from her high school years. "I've realized I shouldn't care what people think. Finding a few real supportive friends and doing what you enjoy is much more important than trying to be cool and impress everyone.  Being yourself is the way to go," she said.
In her spare time, Faith takes pleasure in painting, taking photographs, playing piano, and singing.  Her favorite quote is "From the outside, a human appears to be just another natural creature. From the inside he or he is an entire universe, the center of infinity."
For any aspiring Student of the Month, Faith advised to always keep your goals in mind and "make sure everything you are doing is going to help you reach those goals." She wants all future Becton students to remember to not let others tear them down. "Stay positive and reach for the stars," she said.
About the Writer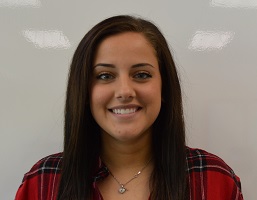 Devyn Di Meola, Editor
Devyn is an aspiring journalist and Co-Editor in Chief of the Cat's Eye View. Avidly drinking coffee and often quoting The Office, she enjoys over sized...