Becton staff, students welcome family and consumer science teacher Mrs. Marut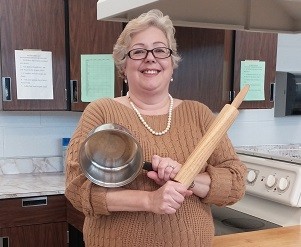 As the new year begins, Becton welcomes a new family and consumer science teacher, Mrs. Marut. Mrs. Marut is the staff replacement for Mrs. Selwocki, who has recently retired after serving Becton for 25 years..
The foods instructor received her associates degree in Science and Culinary Arts and her bachelor's degree in Science and Food Management at Johnson and Wales University. She also earned her master's degree in Human Nutrition at the University of Bridgeport. She later completed alternate route training at Rutgers University, which provided her with the credentials to become a teacher.
Prior to joining the Becton faculty, her teaching career was spent at East Side High School in Paterson, where she taught Culinary Science, in addition to Union Township and Leonia Township, where she taught Independent Living and specialized classes for different cuisines. She was also the head supervisor of Fairlawn High School's cafeteria. Before she discovered her passion for teaching, Mrs. Marut spent her time working various jobs in food service.
The experienced gourmand recognizes that the food service industry greatly prepared her for teaching. "In a kitchen, you are constantly training people – whether it's kids at a summer camp, students in high school, or adults in the work force," Mrs. Marut stated, as she reflected on previous work experiences.
Mrs. Marut noted that "teaching cooking is the perfect combination of intellectual and hands-on work." This job enables her to spread her knowledge of food to other students with the hope that it will prepare them for their future. Her ultimate goal is for her students to be able to use the tools she teaches them to feed and cook for themselves and their families.
Her favorite quote in regards to cooking is, "When in doubt, throw it out," which she notes is the best tip to ensure quality and safety while cooking.
The new family and consumer science teacher categorized Becton as a great fit and says that the district, students, and faculty have been friendly during her welcome. She also shared her excitement for the future months and school years to come. Her ambition for upcoming years is to expand the home economics program to include savory and classical cooking meals, which will broaden the students' understanding and knowledge of all the food industry has to offer.