Becton Celebrates Pride Month of 2023
Pride Month is nationally celebrated all throughout the month of June. It was declared "Gay and Lesbian Pride Month" in June of 1999 under Bill Clinton's presidency, where he honored the Stonewall riots that occurred in 1969. The altercation was in New York, between gay rights activists and policemen who wanted to shut them down. They had raided a gay bar which sparked revolts against the police. However, these tensions had been growing over time– the riots were simply a breaking point. There were a lot of injuries and physical fights, but thankfully, there had been no reports of deaths. It was not until 2011 under Barack Obama's presidency that Pride Month had been completely opened up to all of the LGBTQIA+ community to be freely celebrated. One of the biggest Pride events of all year is the annual LGBT Pride March in New York City. While members of the community march the streets of New York, millions of onlookers from the side show their support and walk with them. This was established in memory of the aforementioned Stonewall riots. Becton's GSA leader Ms. Skeahan states, "Not only do we want to play a part in honoring the LGBTQ+ pioneers of the past who fought tirelessly for equality, but also to show all students that they are accepted and valued here at Becton Regional."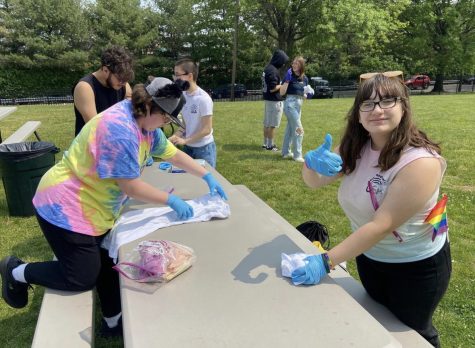 Led by the GSA Club, the BRHS student body participated in a few Pride Month events as well! On May 24 2023, they conducted their second annual Tie Dye For Pride, where teachers and students got to tie-dye their own GSA shirts to show support. "This year's event was a success, similar to last year!" Skeahan conveys her gratitude, "I also think the GSA members themselves had fun tie-dying shirts for themselves, their friends, and their teachers– so that is what makes the event a success to me." Sophomore Brandon Orozco, a member of the GSA, expresses, "It was a very fun event! I loved being able to spend time with my friends and still support a good cause." Just a few days afterward on June 1 2023, GSA members gathered in the morning to sell rainbow bagels in front of the main office and in the cafeteria. The bagels were served for $2 each with cream cheese or butter. "GSA members had the idea of selling rainbow bagels last year, but we didn't have the chance to pull it together. This year, not only did we have a rainbow bagel sale, but we sold out completely!" Skeahan informs. The next day, June 2 2023, all staff and students were encouraged to wear their GSA Tie Dye For Pride shirts to show their support!
It is important to celebrate Pride Month openly in a high school, Senior GSA member Mikey VanClief feels, "because members of the community need to know that they have people to fall back on. There are people who are going through the same struggle. It is especially important in high school because this is the age where people are at their most vulnerable." As for next year's GSA and what is to come, Skeahan is planning similar events, but always changing them up based on what GSA members have to share.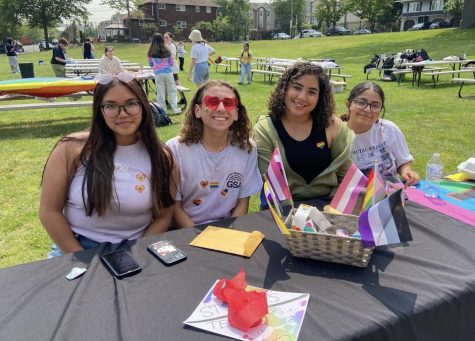 "We will definitely be bringing back some of our successful fundraisers like the rainbow heart pin sale, rainbow bagel sale, and Tie-Dye for Pride event, but, as always, I am open to new events and activities!" Her overarching goal stays the same – "create and maintain a comfortable space for students to be their authentic selves." The GSA is always welcoming new members at any time and we are excited to see what is on the horizon for future years. Happy Pride Month, Becton!
About the Contributor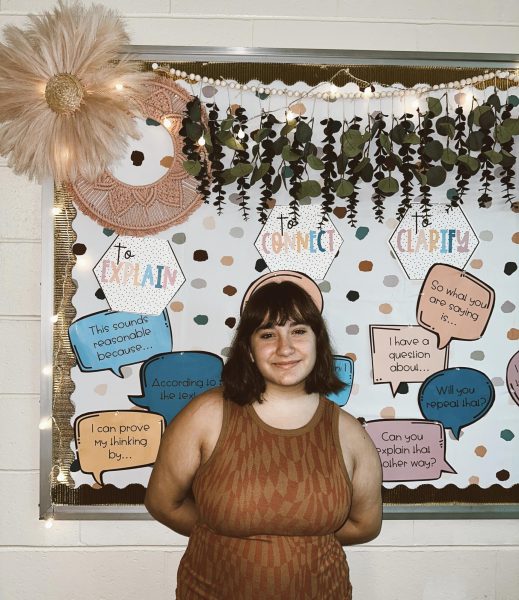 Julia Bubendorf, Co-Editor in Chief
Julia Bubendorf is a junior at Becton Regional High School and this is her second year in the Cat's Eye View. Bubendorf is also part of the GSA (gay-straight...