February's Student of the Month: Yagoda Selwa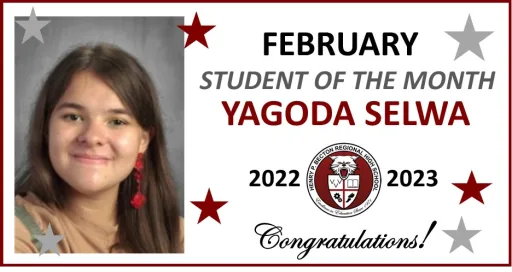 We frequently try to do our best in school and keep working hard. This hard work eventually garners well-deserved recognition, as seen in Becton's highlighting and honoring of these select students who have accomplished significant feats. For the month of February, we proudly present Yagoda Selwa as our 2022-2023 February Student of the Month! 
Selwa is known around the school as purely wanting happiness for others, and not at the expense of her own. Selwa is an affable, well-rounded, and dedicated individual who tries her best to spread happiness to all Becton students. Selwa is enrolled in a remarkable number of honors classes, including AP Literature, Italian Honors 4, and AP European History. She attends school every day with a grin on her face and is proud to beam at everyone who passes her by. Selwa also takes part in a staggering number of extracurricular activities and groups, including the NHS, Horticulture Club, Marching Band, Italian NHS, Winter Guard, IMAGES, and many others. Selwa, who is a highly active member in every club and extracurricular activity, is able to manage her time extremely well despite having a chaotic and busy schedule. Selwa plans on attending Rutgers next year after being accepted with a high scholarship.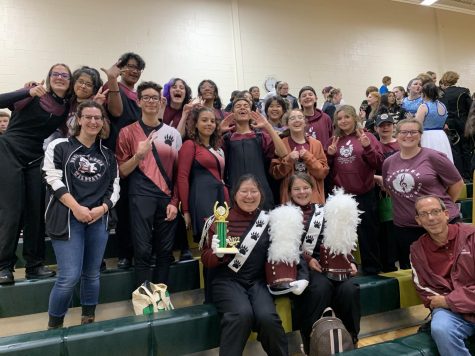 As for Selwa's intentions for the future, she wants to study history at Rutgers University. Thanks to her Becton teacher, David Dorsey, who she credits with inspiring her to pursue a career in history– she has developed a more active interest in it. Selwa claims that she has a natural talent for history, thus her consistent enthusiasm is not just attributable to her history professors. She is now keeping an eye out for potential internship opportunities to help her achieve her objective and get the experience she longs for. Selwa hopes to "…one day become a historian at a museum to bring everyone and their minds together with history!" 
When Selwa learned she has bestowed the honor of "Student of the Month", she could not be more appreciative! She was astonished and wished to thank all faculty, staff, and other coordinators for giving her such a high praise! Yagoda has received this award among many others– most notably the "Polish Seal of Biliteracy" test award. Outside of awards, however, she is recognized by teachers as well for her awesome work ethic, as indicated by her English teacher Kathryn Scalera, "Yagoda is a wonderful English student. She is engaged all the time in the classroom and the literature. I love how she probes the literature and will be excited when we are reading a novel or play that she loves.  She is such a wonderful example of a conscientious student, and it is with her hard work and dedication that she attains such fantastic grades."
Yagoda as a friend is equally recognized by both teachers and students. According to Kacie Lu, a fellow member of the marching band and other various clubs, "Yagoda is one of a kind. Despite our grade difference, she's never failed to support me in everything I do and always is there for me when things go wrong, as well as providing some of the best advice I've ever received while navigating high school (i.e. making sure you take breaks, prioritize your mental health, etc.)."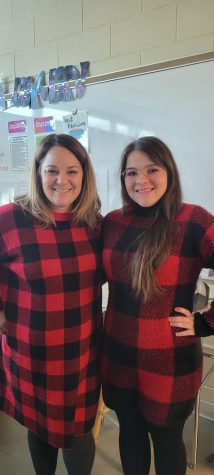 When interviewing Selwa, she personally wanted to include in this article advice for those looking to one day aspire to be the Student of the Month, "Remember the most important thing is to have fun and do what's best for you. I know that that is hard, and trust me, I've been there too; comparing myself to my peers and whatnot- but as time went on, I realized that in the end, it was my own self-interest that mattered the most. Go against the grain, take chances, take risks, and don't forget that it's okay to say no. Take breaks! It's not worth burning yourself out. Make sure that you have a healthy balance of fun silly stuff that makes you happy with your academic work."
Congratulations to February's Student of the Month:  Yagoda Selwa! The Becton Community commends you on all of your success and wishes the best of luck to Selwa in her future endeavors!
About the Contributor
Mark Ricco, Staff Writer
Mark Ricco is a junior at Becton Regional who is passionate about his music career. Ricco has always been interested in music and the arts, but his first...