Becton Honors those who Served this Veterans Day
On Friday November 11, 2022 we honored and celebrated military veterans of the United States Armed Forces on the federal Holiday known as Veterans Day. 
What is Veterans Day? 
Veterans Day, observed annually on November 11, is a tribute to military veterans who have served in the U.S. Armed Forces. It is not to be confused with Memorial Day, which honors those who died while in service. Veterans Day honors all military veterans, including those still with us. Veterans Day, originally known as Armistice Day, was first issued on November 11, 1919, by President Woodrow Wilson one year after the end of World War I. The purpose of Armistice Day was to honor the fallen soldiers of the Great War for their sacrifice and bravery. Seven years later, in 1926, Congress adopted a resolution requesting that President Calvin Coolidge issue annual proclamations on November 11, making Armistice Day a legal holiday. 
Later in 1945, World War II veteran Raymond Weeks had the idea to expand Armistice Day to celebrate all veterans rather than just the ones who died in World War I. He led a delegation to General Dwight Eisenhower, who was all for the idea. Weeks then organized the first Veterans Day celebration in 1945 in Alabama and every year since, until he died in 1985. In 1982, he was honored by President Reagan with the Presidential Citizenship Medal.
How Becton Shows their Gratitude this Veterans Day
Former Becton math teacher and current Alumni Affairs/Military Appreciation Coordinator, Mrs. Michelle Ferris, gave her insight on Veterans Day, and how Becton honors those who gallantly and bravely served. Her position entails getting all alumni involved, not just military, in various ways. Ferris explains that students should care about Veterans Day because "…these men and women have sacrificed their lives so that we in the USA can enjoy our freedom and have a fair judicial system." She further explains, "We live in a country where there is freedom, and it is the military who has a large part in giving us this." Ferris gives a great example of one way Becton students showed their support for Veterans this year as students wrote "Thank you for your Service" cards to over 100 alumni. She also stated that the school shows their support for those who served even when it is not Veteran's Day through incorporating veterans in Becton's graduation, and at assemblies as guest speakers. Ferris looks to the future and notes that the school is trying to set up a Veteran's Appreciation Day sometime in the spring. 
When asked what inspired Ferris to take on the role of Alumni Affairs/Military Appreciation Coordinator she stated, "It started with Dr. Sforza wanting to recognize the military, and me wanting to do something big for Becton's 50th anniversary. Being the senior class advisor for 32 years I had a lot of connections and wanted to do something honorable in June 2021, so I worked with my alumni connections." She noted that when the COVID-19 pandemic started, she switched to a virtual approach and created a Facebook account that reached East Rutherford/ Becton Veterans. She posted pictures and information on close to 200 Veterans each day during the lockdown and months afterwards. She ends with a positive outlook on her retirement as a teacher at Becton by saying, "I knew I still had so much to offer Becton but in a different way. I was thrilled when Dr. Sforza created this position for me." This statement proves true as she continues to support Veterans and connect with Becton's Military community in a plethora of ways and makes it a point to honor those who served not only on Veterans Day, but every other day as well. 
Ferris continues to show her support and honor those who have served on social media, through posting small tributes to Becton's Veteran Alumni on her Twitter. To see her posts and get more information about Becton's Military Community and Veterans, click the link to view her Twitter account. 
https://twitter.com/micheleferris4
About the Contributor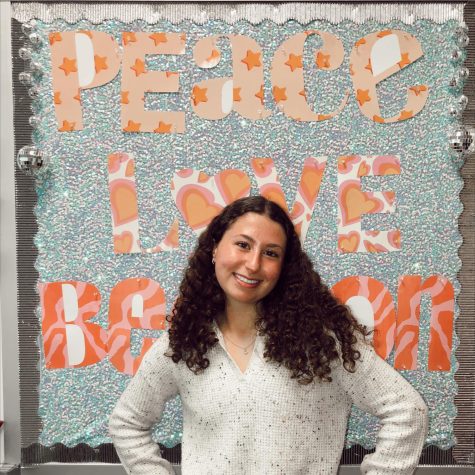 Olivia Busa, Co-Editor in Chief
Olivia Busa has joined The Cat's Eye View staff for her sophomore year at Becton Regional! Excited to write about events happening in the school community,...