Calasso Represents Becton at NJSC 2022
One of our very own, Ms. Angela Calasso, recently represented Becton at the 2022 New Jersey Science Convention! Over the summer NJSC sent out an email seeking teachers interested in presenting at the Fall 2022 Science Convention. Calasso immediately reached out to Kira Loh, her eventual co-presenter at the convention, and they wrote and submitted their proposal. Loh is a good friend of Calasso, and also teaches biology at a neighboring district– Lodi High School. The two met in graduate school at Rutgers and clicked over their passion of teaching biology. Calasso stated enthusiastically, "We would often sit in a coffee shop for hours on end refining our lesson plans and researching effective teaching methods and practices. When I came across the opportunity to present at the NJ Science Convention, I knew I wanted to collaborate with her again." 
The theme for the NJSC this year was 'helping all students find their voice'. Calasso and Loh presented ''Building and Sustaining Culturally Responsive Science Classrooms' where they discussed the importance of establishing a classroom community and using culturally relevant scientific phenomena to engage students in achieving academic excellence. In the presentation, Calasso shared how she establishes a classroom community by co-constructing classroom norms and expectations with her students, which is something she has been doing since her first year. She also discussed two activities that encourage students to engage in their community. One of those activities is the NJ Air Quality Flag Program which our Environmental Club just initiated with the Department of Environmental Protection. This program is a great way for students to evaluate scientific data and bring awareness to the community by raising a flag to indicate good, moderate, or poor air quality which can directly affect sensitive individuals. Overall, Calasso discussed how she spends time getting to know her students and their community so that she can incorporate students' cultural, social, and linguistic capital into her lessons to help students achieve academic success and feel a sense of belonging in the classroom.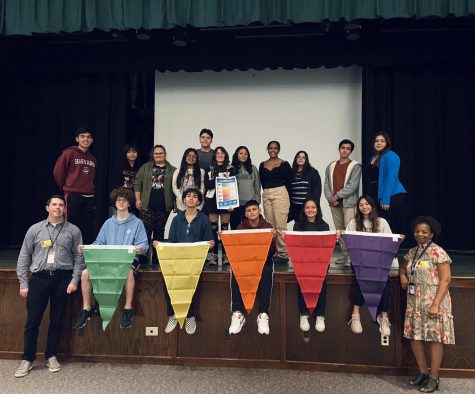 While Calasso was at the science convention, she was honored to connect with many other science teachers and was able to obtain new tools and strategies that she can incorporate into her own classroom. Calasso was proud to represent Becton at the NJSC, "Having the opportunity to represent Becton as a presenter was so special to me because I take pride in our school district, and I am always eager to share our outstanding student experiences. My experience at Becton and the support I receive from colleagues and administration is truly what has given me the confidence to present at this state convention. This is something I would have never imagined doing so early on in my career, however, the support I receive at Becton has equipped and empowered me to take advantage of this incredible professional development opportunity." 
To watch Ms. Calasso and the Environmental Club grow, follow their Twitter!
About the Contributor
Claudia Da Mata, Staff Writer
Claudia Da Mata is a proud member of the Cat's Eye View staff. She is passionate, caring, and kind in nature. Her main priority as of right now is making...